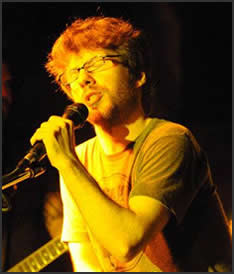 A few weeks ago we were having a record breaking heatwave across the country as well as here in PA. My annual trip to Brigg's Farm Blues Festival was going on right in the midst of this oppressively warm and humid spell. It was sunny and a steamy 95 degrees when Ed Randazzo took to the Back Porch Stage to kick things off  on Friday, July 6th. The stage and seating area was sheltered under the shade of a tent and there was an occasional breeze, but it was still akin to hanging out in a steam sauna. Oddly, the heat didn't detract from Randazzo's intense and inspirational performance.
Randazzo just released his second CD, Show and Tell, earlier this year in follow up to his brilliant first CD, See that My Grave is Kept Clean. He sang songs from these two collections as well as some Blues/Gospel classics accompanied by Bret Alexander – his producer and collaborator – on acoustic guitar. Listening to Ed sing is a moving experience. His physical presence is rather diminutive, but his voice commands attention from the very first note. Once you get over the initial surprise of the deep, mellow and emotive sounds coming from this unexpected source, you are drawn in to the music and forget all about the heat.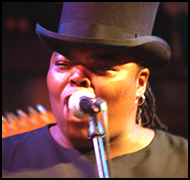 Later in the evening, while the air was still akin to a steam bath in the cornfields of Brigg's Farm, blues singer Alexis P. Suter took the stage.  After wowing the audience with several songs, she and her band were soaking wet and it wasn't even raining. She commented that it was "hot as blazes out here" but went on to say " but I thank God that I am alive to feel the heat."
So while some people might think of singing the blues as singing about depressing things and situations that make you feel "blue," what we experienced at this blues fest was music and performances that inspired and encouraged us to look for the positive in every situation.
~
K.A.