I had the pleasure of speaking to Bobby Kelchner, the stage manager for Briggs Farm Blues Festival and gathered some great information.
This year there will be  a new angle for the Thursday night (July 7Th) pre-party show by bringing in  country blues locals, The Hess Boys, and Nashville's Christina Vain along with the headliner hailing from Texas, Joshua Ray Walker. Walker has been on the Jimmy Fallon show and he is listed as #5 on the Rolling Stone county chart.
On Friday (July 8Th), Lee Fields and the Expressions will make their festival debut. Lee Fields sang with James Brown and his guitar player performed with Aretha Franklin. This should be a great new addition.
Saturday's (July 9Th) headliner is Kenny Wayne Sheppard, who is celebrating the 25th anniversary of his 1997 platinum album Trouble Is…. This is one act that The Brigg's family has been working towards booking for a long time. Years ago, festival founder Richard Briggs tried booking Sheppard and his band,  but the timing just wasn't right. Things finally clicked into place for this summer, serendipitously having a platinum recording artist celebrating a 25 year milestone as part of this 25th annual festival.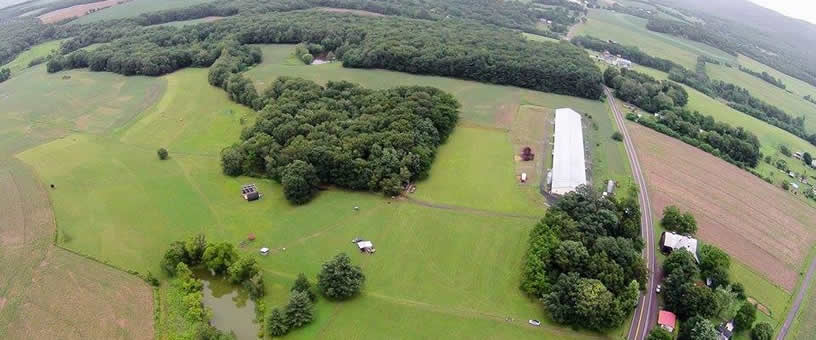 There will also be some new food vendors this year. Sweet corn is returning and a new barbecue stand will be joining as they were requested  by fans. There will also be over 60 merchandise vendors making it like an outdoor shopping mall.
The economy seems to have had little to no bearing over this year's event as they are right on target with sales as compared to last year. The difference as stated by Bobby is that the convenience of bringing top artists to a local venue saves people from traveling to other cities to see them and the camping will also alleviate the cost of gas.
When I asked out of curiosity if they plan on expanding in the future, I was told that "as long as people are willing to buy the tickets, there are 400 acres of land on which to expand." They added more seating at the back porch stage as well so like the old saying goes, "If you build it, they will come ."
If you're new to the Briggs Farm Blues Festival, you will be in for a great treat and if you have been coming for years, we look forward to  enjoying the best weekend of the year.
"With every song that is written there is a story to be heard"
Briggs Farm online
---