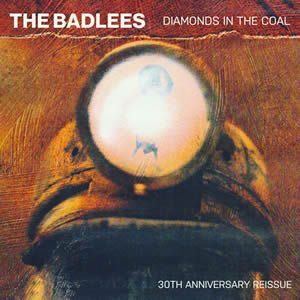 This year marks the 30th anniversary of The Badlees' debut LP, Diamonds In the Coal. To mark the occasion, the group has released a special remixed version of the 1992 album which helped launch the Central Pennsylvania band to international success.
The remix project was spearheaded by engineers Bret Alexander and Paul Smith, who are both group members and who first worked together on the original version of the album. As Alexander stated; "Paul and I have been involved on the engineering side of our records from the beginning. At the time of Diamonds In The Coal, we had both been engineering about 3 years. You get better at this stuff over time. We thought fans would appreciate an update on this particular record. Paul did a great job." While the pair briefly considered doing alternate mixes for this project, they decided to stay faithful to the original song structures and sequencing for the 30th anniversary remix with the sole exception being the omission of the barely-minute-long "Interlude/Badlee Rap".
The remixing and remastering took place at Smith's Eight Days a Week studio in Northumberland, PA. But before any remixing could take place, the original analog tapes had to be recovered and restored. In storage at Alexander's Saturation Acres for much of the past three decades, the magnetic tapes got "gummed up" with sticky-shed syndrome and needed to be prepared using a quasi-scientific method known as "baking the tapes". Set at temperatures around 130° to 140° Fahrenheit for several hours, moisture is released from the analog tapes so that they could function long enough be transferred to digital format.
To mark the occasion of this remixed album, The Badlees will be performing the entire album live this coming Saturday, November 26, 2022 at Front Street Station in Northumberland, PA. The group recently reunited with the classic, five-man lineup that commenced with Diamonds In the Coal in 1992 through the following dozen years of their career.
~
Review of Diamonds In the Coal at Classic Rock Review
Badlees profile at Modern Rock Review
Badlees website
Buy Diamonds In the Coal