August 4, 2012
By Bret Alexander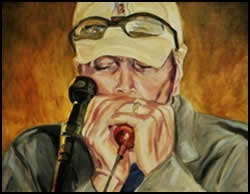 Early yesterday morning my good pal and fellow musician Nik Allen passed away after a long battle with cancer. It is hard for me to wrap this guy up in a few sentences. So I will just grab the first story that comes to mind.
A few weeks ago, I picked up Nik to take him to a gig. He couldn't drive anymore and honestly he had no business going to a gig in the first place. Oftentimes he'd be rigged up with wires, tubes, and bags in a fashion that made you believe he should be in the ICU instead of onstage. But it was what he loved to do. If Nik got the green light and was up for going to ANY gig, my other partner in crime Bubba would always pick him up. If Bubba couldn't do it, I would grab him.
On the way to this particular show I sat there and listened to this crazy old guy tell story after story about whatever came through his head. His kids, his old lady, run ins with the law, having no money, or his old job. And every story would be accompanied by an a cappella rendition of some blues song that applied to the situation. "My Home Is A Prison", "Big Boss Man", and on and on. Then that would be followed by a ripping harp solo….. played alone in the front seat of my car while I drove. After that came a discussion of the blues greats. Muddy Waters, Sonny Boy Williamson, Jimmy Reed, Son House, and on and on.
Now, over the years I have played lots of big shows in many amazing places. But I will tell you that there have been very few experiences in my life that made me feel more like a real musician who plays for the right reasons. I made peace with my musical path on that drive through the Pennsylvania mountains. And Nik provided the soundtrack….and the sermon.
A very successful folk musician once said to me: "I am not Bob Dylan or James Taylor…..but I'm in the club." Most of the musical world didn't know Nik Allen. But he is in the club. And when we played together he made me feel like I was in it too.
It doesn't matter how much money you leave behind. Someone can piss it away. It doesn't matter how many buildings get built with your name on it. Someone can always tear them down. But your character, soul, vibe, and the stories you leave behind will live on. And if the hero was just, the legend only grows with time. I suspect that Nik is fine with that.
So Nik, safe travels my friend. Play on. You gave me the blues I never knew I had.
~
Bret Alexander