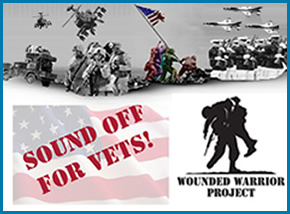 With injury reports from the Middle East no longer prominent in the news, wounded service members may feel like they have been forgotten. But the Wounded Warrior Project has been established to make sure America's finest are never forgotten. Lebanon musician Chris Nelson has been doing his part by organizing the concert series Sound Off for Vets to raise funds for the Wounded Warrior Project and keep these fine men and women in the public arena, all while providing an entertaining showcase of Pennsylvania musical artists.
This year's show will be held Saturday, May 19th at City Island in Harrisburg in conjunction with Armed Forces Day. The show will feature four performers starting with Nelson himself, followed by Rhyne McCormick, Michael Anthony Smith & the Dirty Thieving Gypsies, and Shift Seven, with each act starting on the hour from Noon through 3:00 pm. Fittingly, each act in this year's show possess strong ties to U.S. Military service. McCormick served in the U.S. Air Force from 1987 to 1996 before launching his successful career as a performer and recording artist. Shift Seven played the first two Sound Off concerts in June 2010 and May 2011, and Michael Anthony Smith and the Dirty Thieving Gypsies played last year. Both of these bands have relatives serving in the military. Nelson himself is a veteran of the U.S. Air Force, having served from 1983 until 2004. This is the fourth overall Sound Off concert and third to be held on City Island. The last show was held on Veteran's Day last year (11/11/11) at Champions Sports Bar in Highspire, PA.
More Information on Past and Present Sound Off Performers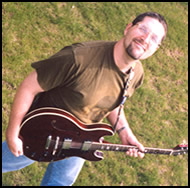 Nelson, who has been writing and recording music for over 25 years and labels his own music "dark folk", released his second full-length solo album last summer called The Invisible Man. He is currently working on a compilation of his some of his older music which we be called Fish Stories, 1986-2005. The tight-riffed rock trio Shift Seven also released their second album last year called Love Lust, while the bluesy Michael Anthony Smith and the Dirty Thieving Gypsies have been writing and recording original material for the past few years. Rhyne McCormick has toured extensively and released several albums through the years, with his latest effort being 2010's Live At the Capitol Theatre.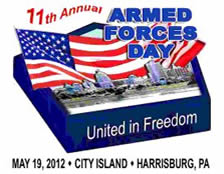 Armed Forces Day transforms City Island into a bustling military base for one day, with great food and over 100 displays and equipment from all services and service-related groups including aviation, artillery, construction, employment information and recruiting booths, veterans' resources, living history demonstrations and a wide variety of family and children's activities and fitness challenges. This year's concert will have an MC, Mike Randazzo, who coordinates media for Armed Services Day. Video will be provided by Tim Dyer of Dyer's World Video, with professional sound by Chris Hicks of Voyager Music, and drums donated by Dale's Drum Shop. Nelson's goal is to raise $1000 for Wounded Warriors and he says they are off to a good start due to the generosity of local businesses and donors who have already made contributions.
List of 2012 Contributors and Contributions
Since it is a free concert, funds will be raised at the show through raffles and voluntary cash contributions by attendees. Nelson said he would like to eventually "franchise" the event by holding multiple Sound Off for Vets concerts at multiple locations each year with the help of various promoters. But he realizes he can't do it all alone, as one event is quite enough work each year.
The show will be videotaped in its entirity and there are discussions about possible DVDs for sale to raise further funds for the cause. On this Memorial Day weekend, it is essential that we all remember and give appreciation to those who put it all on the line in defense of our country, our citizens, and our freedom.
~