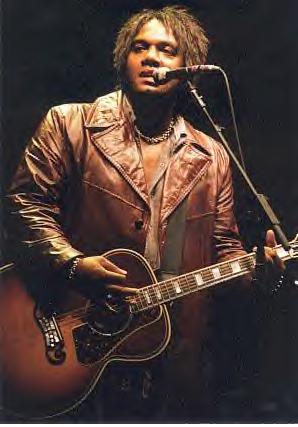 This past Saturday afternoon, October 1st, was a very interesting musical experience for my husband and me. For the first time, we headed up to the Little Buffalo Festival, located in a scenic and remote corner of Perry County. We'd been to this state park for the Halloween hayride when the kids were younger. But this was our first time at this specific festival which has been ongoing since the early 1980s. The main draw for us was the headliner Jeffrey Gaines, but we would discover and enjoy many different performances by artists in many different genres on this cold and drizzly day.
On the way to the show, we stopped by the Modern Rock Review P.O. box to the find we were sent Made2BPlayed by Williamsport's Charlie Bush. It was a pleasant surprise to have something new to listen to during this 45 minute drive into the mountains. Bush produced an upbeat, solid, roadhouse country album with strongly themed songs. The best of these is "9-11 Ride", a song which describes a bike rally in honor of the victims of the most terrible day in American history. The song is becoming popular across the country, especially at bike rallies, some of which have adopted it as their official theme song. A few other highlights from Made2BPlayed are "Recollections", a heartfelt song with a lighter touch, and the remake of Del Shannon's "Runaway", which has an interesting sonic twist while maintaining the overall spirit of that original song. The album was recorded at Green Valley Recording in Hughesville, PA, and has an excellent overall sound. Bush describes his music as having;
a little country-rock feel – not country music but like chicken-fried, swamp bottom rock 'n roll…"
We arrived at Little Buffalo mid afternoon and headed to the main stage to catch the end of George Wesley's set. Wesley's reggae influenced, Caribbean-vibed, feel-good music – made you feel more like you were on a sun-soaked island beach than a rain-soaked field. George Wesley has written and performed his own infectious music for over four decades creating many memorable songs influenced by the blend of rock 'n roll and Caribbean sounds. Through the years George has been a headliner at many festivals as well as playing the same stage with a long list of well known artists including The Wailers, Santana, Black Uhuru and Jimmy Cliff.
We then headed to the acoustic stage to see the Buc Hill Aces. The Buc Hill Aces are Glenn Carson (fiddle), Patty Carson (bass), Nancy Lockman (guitar), and Brian Lockman (banjo).The band plays old time music, gospel, blues, and whatever strikes their fancy!
The Small Ponds from Raleigh, NC were the next act to take the main stage. Their set was a striking contrast to the previous band's upbeat vibe with quiet, deliberative arrangements and vocal harmonies. It was a very relaxing portion of the show.
The Acoustic Stage Headliner this year was Banks, Whitmoyer & Raczar, who treated us to a genre bending mix of blues, folk, bluegrass, country and rock. Their sound was truly original and their musical skills quite impressive.
By the time Jeffrey Gaines took the main stage, the drizzle had turned into a full fledged shower scattering the crowd to seek shelter under trees and tents but not dampening their enthusiasm for the music. Gaines has a cool, Lenny Kravitz thing going on with dark glasses and a leather jacket. He creates a big sound performing with just his voice and a guitar in a style commanding that you listen. A highlight of the performance was "Hero In Me" from his debut album in 1992. It was a real treat to catch Jeffrey Gaines performing at a free festival and certainly worth getting rained on!