NOTE: This article was originally published on the DAMES of Pa website.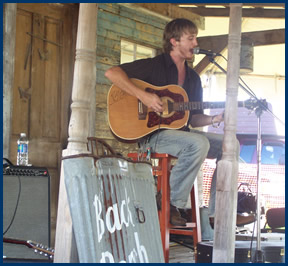 Music and the smell of BBQ and burning campfires filled the air on July 8th and 9th at The 14th Annual Briggs Farm Blues Festival. Hosted by the Briggs family on their picturesque farm in Nescopeck, PA, this festival has grown to be one of the highlights of the summer for PA music fans. My husband and I have gone for seven consecutive years and have watched this event grow bigger each year.
What makes Briggs Farm so special is the relaxed, mellow atmosphere as well as it's affordability. Ticket prices are reasonable, parking is free, hayrides through the cornfields are free, you can bring your own coolers filled with food and drinks and you bring your own chairs. They offer delicious food at reasonable prices along with some very unique vendors and it is family friendly. Dedicated fans can even make a weekend of it by camping in the woods behind the stage. It is like coming to a big party in a cornfield with a few thousand of your closest friends.
The music is top notch every year with larger acts on the main stage and smaller, acoustic acts on the back porch stage. It's fun to wander between the two stages and check out the variety of featured musicians. This year, the quality of the available choices was almost overwhelming – that's a good thing!
We heard good reviews from the folks who attended on Friday evening. They all enjoyed the show despite the rainy weather. We were there on Saturday and the entertainment and the weather were spectacular! The show got underway around 4pm and ran until close to midnight. Early on, it seemed like the place to be was at the Back Porch stage. Vandelay Industries, out of nearby Berwick, PA were the only local act and were very enjoyable, especially during the song "She Hit Me Like a Mack Truck". Nashville artist Mark Armstrong was next with his excellent vocal style. Then came Eli Cook, this young, lanky dude from Virginia with a deep, bluesy voice. He put on one of the more interesting performances of the day. He alternated between three different acoustic guitars which shared a movable pickup that fed the sound through a Fender amp. The result was an amazingly authentic, heavy electric sound. Cook added yet another cool element by placing a mic in his guitar case and tapping his left foot to give a deep, kick drum-like thump to accompany his music. Other Back Porch Stage performers included Brigg's Farm staples Terry "Harmonica" Bean who impressed the crowd with his harp playing prowess and Lonnie Shields who makes amazing BBQ in addition to playing a mean blues guitar.
Jimmy "Duck" Holmes, a solo acoustic slide player, kicked off the music on the main stage. He was followed by James Armstrong and his upbeat, Chicago blues band. An excellent entertainer, Armstrong had the fans really going with songs like "Bank of Love", which was written while waiting in a long line at the bank because only teller was working – she was pretty and thus became the subject of his song. He even came out into crowd to jam on guitar during one song and was right back in the crowd later watching some of the fine acts that followed.
Eddie Shaw & the Wolfgang, a band which backed up the legendary Howlin' Wolf during his later years, was the night's headliner. The band has played everywhere from Carnegie Hall in New York City to the small, intimate blues clubs of Chicago, with Eddie Shaw senior on tenor and alto saxes, harmonica and vocals and his son, Eddie "Vaan" Shaw on guitar. The younger Shaw came out blazing with his custom-built, triple-necked guitar and amazingly fast technique.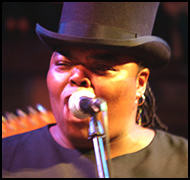 By far, my favorite act of the day was the Alexis P. Suter Band, lead by the female singer with an incredible, husky voice. During the classic song "John the Revelator", Suter displayed the perfect balance of control and power while ranging from depths that were nearly baritone to some high and soft notes. Behind her was a very talented band, including two female background singers. Her performance of Bob Dylan's "Knockin' On Heaven's Door" gave me goosebumps so I eagerly bought her CD and got her to autograph it after the set. I've listened to it, and while it's very good, it pales in comparison to what I heard live on Saturday.
As usual, Jimmy Christman was the show's MC on the main stage. Christman used to host blues night every Wednesday at his West Hazleton club, The Road's End Pub, until its closure last October. He commented on how he was absolutely sure that the crowd on Saturday was an all-time record for the festival. Judging by what we saw, he's probably right but that is a mixed blessing. On the one hand, it almost guarantees that the Briggs Farm Blues Festival will continue. But on the other hand, it seems that one of the best kept secrets in the foothills of Pennsylvania is now out.
~