September 20, 2013
by Travis Fisher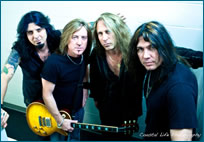 Rock group Slaughter will be visiting the Susquehanna Valley on Saturday, October 5th when they perform at the Hummels Wharf Fire Company in Selinsgrove, Pa. Formed in Las Vegas in 1988, the group consists of guitarist/vocalist Mark Slaughter, bassist Dana Strum, drummer Blas Elias and lead guitarist Jeff "Blando" Bland.
The group reached national prominence in 1990 with the release of their debut album Stick It to Ya, which spawned three Top 40 singles along with heavy radio rotation and an appearance in a major motion picture. Since then, the group has remained in tact as touring and recording artists.
Opening the show for Slaughter will be two Pennsylvania hard rock groups, Kill Scheme and Gun Metal Gray. Ticket and other information on the event can be found through Fisher Promotions (570.847.1946).
~