Briggs Farm Blues Festival 2013
July 15, 2013
By Ric Albano and Gary Neiswender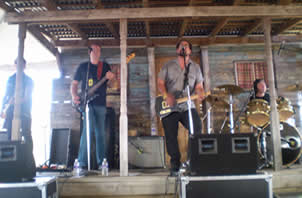 On Saturday evening, The Badlees performed on the "back porch" stage during the Briggs Farm Blues Festival. While many wondered prior to the show how the long time Pennsylvania pop/rock group would go over at this Blues festival, the band left little doubt that they belonged (and should have been on the main stage). Playing as a four-piece fronted by guitarist and chief songwriter Bret Alexander, the Badlees crafted some totally new arrangements of a balanced mixture of originals and covers.
They opened their set with the new song "Vigilante for the Golden Rule", which will be included on their upcoming double album due to be released in October. This song struck a chord immediately due to its sharp descending riff rock in between the upbeat and catchy, blues verses. The group followed this up with a totally new arrangement of "Memphis Restroom" from Bret Alexander's 2004 solo album Gentleman East. Especially impressive during this segment was bassist Paul Smith who employed a boogie-blues technique similar to John Paul Jones on early Zeppelin Material.
An extended version of the band's "Silly Little Man" was performed and featured a long, dueling guitar section with Alexander and the group's second guitarist Dustin Drevitch. While just about every song featured new or alternate versions, some songs did not work as well as others. These include some extra-twangy versions of "Angeline Is Coming Home" and "Drive Back Home", which seemed a bit out of place among the rest of the material. But these were the exceptions to an otherwise brilliant set.
Drummer Ron Simasek, who before the show claimed he was not even aware if the band was performing an acoustic or electric set on the back porch, left no doubt about his ability to improvise with an incredible performance that brought down the house (..eh, tent). In fact, the rhythm section of Smith and Simasek were particularly brilliant on this humid summer day of mostly standard blues rhythms.
Some other highlights of the Badlees' set included updated arrangements of blues and Americana standards, such as Tom Waits' "Way Down In a Hole" and the long-time band live staple "The Battle of New Orleans". On two songs, the band was also joined by a other Briggs performing musicians. Vocalist Ed Randazzo came onstage to sing his soulful version of "Didn't It Rain", while blues harp specialist James Owens joined the group for a powerful cover of Steppenwolf's "The Pusher". The crowd, which swelled well beyond the boundaries of the large tent, were ever more enthusiastic with each performance.
We have seen the Badlees perform scores of times over their career, which is now nearly a quarter of a century old. On Saturday, we expected to find little surprises during their 75-minute set, but were pleasantly surprised by this unique and powerful performance on the back porch at Briggs Farm.
~