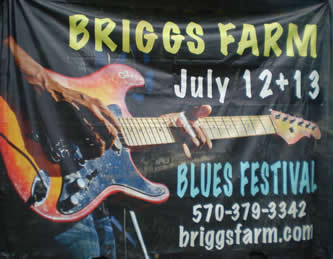 Located in Nescopeck Township, PA, Briggs Farm holds its annual Blues Festival each July. This ever-growing, two-day festival is open to all ages, priced relatively cheap, has free parking, camping, and let's you set up your own picnic area on their large, amphitheater-like lawn. There are two stages with simultaneous music and plenty of food and craft vendors on site, including Briggs world-famous, farm fresh roasted sweet corn and plenty of "soul food" to compliment the blues music. They even offer a free hayride through the farm to take in the rural scenery of the beautiful Luzerne County valley.
Like previous years, the 16th annual festival of 2013 featured a mixture of National, Regional, and International Blues Bands.
Mac Arnold has played with Muddy Waters as well as a long list of major rock, R&B and blues artists, He accepted a Blues Music Award for his participation on the 1966 recording Muddy Waters – Authorized Bootleg: Live at the Fillmore Auditorium.
The Badlees from Northeast Pa. and have come back to Briggs 15 years after they were part of the inaugural festival in 1998. More on the Badlees performance.
Terry "Harmonica" Bean was taught how to play the blues by his sharecropper father in Pontotoc, MS. He is engaging as both a one man band playing harmonica, guitar and foot percussion as well as the leader of a full blues band.
Lurrie Bell is recognized as an exceptionally talented guitarist and musician known for his mastery of different blues styles, his soulfulness and his musical maturity. He is the son of famed blues harmonica player Carey Bell and grew up with Chicago Blues legends all around him.
Georgie Bonds is from Philadelphia, where his training as a blacksmith inspired him to develop his hobby of making up songs for his own entertainment. His voice is at once smooth and warm but also has the power to shake the walls.
Cedric Burnside is the grandson of legendary R.L. Burside and is renowned as one of the best drummers in the world. He is also known for his mastery of open tuned guitar.
Eli Cook has been called a "young gun with an old soul". He is known for his elegant guitar work and ability to fuse the blues with his rock influences.
The Kinsey Report hails from Gary, IN and plays a funk infused blues rock with a heavy reggae influences.
Jesse Loewy is a young Pennsylvania artist who taught himself to play by watching DVDs of Jimi Hendrix and Stevie Ray Vaughn. He has appeared with Ron E Kayfield and Lonnie Shields and gives a surprisingly mature performance despite his limited years.
Nate Myers and the Aces are a Central PA band led by vocalist Nate Myers and his harmonica. They play a unique mix of American music that weaves blues, funk and rock into their own unique thing.
James Owens and Dustin Drevitch – James learned to play harmonica from legends like Terry Harmonica Bean, Harper and Mikey Junior and has appeared in 15 of the 16 Briggs Farm Blues festivals. Dustin is formally of Lemongelli and also performs with the Badlees as their second guitarist.
Ed Randazzo delivers original blues and puts his own mark on some classics with his deep, emotive voice that commands your attention from the very first note.
Shakura S'Aida is a truly international artist – a Canadian, born in Brooklyn, and raised in Switzerland. She has a soulful voice and a vibrant personality which really connects with her audience.
Lonnie Shields is a Delta born guitarist, singer and songwriter. He delivers a soulful mix of blues, soul, funk and gospel in his powerful, emotional performances. He feeds the crowd both musically and literally, as he also makes barbecue at the festival.
Clarence Spady is from Scranton, Pa. where he learned the blues from his father and began performing B.B. King and James Brown tunes for his classmates in kindergarten.
Symphonic Haze is a progressive rock band hailing from nearby Berwick, Pa.
~