October 8, 2012
By Karyn Albano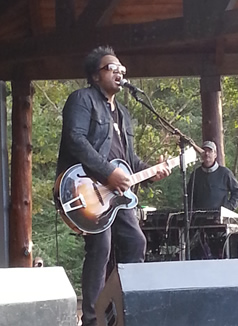 This past Saturday (October 6th) was the annual Little Buffalo Arts Festival, at the Little Buffalo State Park in a remote area of Perry County, Pennsylvania. Along with art, poetry, kids activities and food, was some great free music on two stages. On the main stage was entertainment by five different acts of diverse music which ranged from a high school marching band to a national recording artist and many degrees in-between. This is the second year we're covering the music from this festival and the second year it was headlined by Jeffrey Gaines. Last year we did an article called Gaines and the Rain at Little Buffalo. Unlike last year, however, the rain held off and the crisp fall day ended with lots of sunshine.
Following the Trinity High School Percussion Ensemble whih started off the entertainment on the main stage, the acoustic quartet Koretzky, Neidig, Gehret & Campbell took the stage. These seasoned musicians with decades of combined experieince, played a pleasant set with a haunting quality in the mixture of acoustic bass, guitar, mandolin, banjo, and various other instruments. Guitarist Kevin Neidig performed lead vocals on the original songs, which had a mild "outlaw country" vibe.
Next came another 4-piece group, The Reese Project, who focused primarily on instrumental jazz with piano, flute, bass, and drums. While all members here were excellent performers, particularly interesting was Laurie Haines Reese on electric cello, who alternated between using her instrument as an acoustic bass and cello.
Central-PA's princes of power pop/rock, The JellyBricks followed with a high energy performance of original music, drawing from material that spanned their 15 year career. The band has a creative knack for songwriting with straightforward, witty lyrics, lots of guitar hooks and a tight musical performance. The song hooks draw you in and hold onto you until the final notes of their energetic and entertaining live performance.
As a transition to his headlining set, Gaines joined the Jellybricks on stage for an inspired rendition of Elvis Costello's "Peace Love and Understanding". Unlike last year, when Gaines played a solo acoustic set, he was backed up by a rhythm section made up of bassist Mike Giblin of Parallax Project and Jellybricks' drummer Tom Kristich, who stayed on for both sets. Gaines professed his positive outlook on love, happy for every opportunity, happy for every day and that comes across in his music and  live performance. He was very interactive, telling the crowd to "get up, dance and be spontaneous". Gaines, a Harrisburg native who now lives in Philadelphia, went through a whole bunch of originals, spanning his entire career, which is now into its third decade.
The Little Buffalo Festival had an audience that seemed to appreciate diversity in their music, which was alluded to when Larry Kennedy of the Jellybricks thanked the crowd for accepting their all-original performance and not calling for "Freebird". A little bit of everything was packed into this autumn afternoon at this normally quiet and remote state park.
~
The Reese Project
The Jellybricks
Jeffrey Gaines