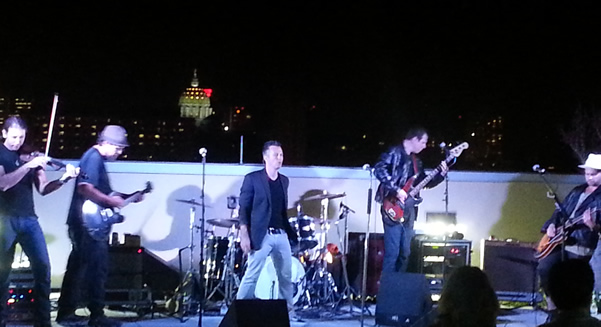 The Badlees performed a unique show last night on the rooftop of the brand new 1500 building in downtown Harrisburg. This was a sort of pre-release party complete with food, drinks, and a fantastic birds-eye of downtown Harrisburg and points beyond. The official release of their new double CD, Epiphones and Empty Rooms, will be tonight at the Whitaker Center in Harrisburg.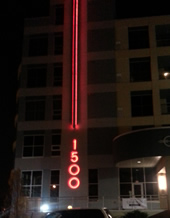 The rooftop event was hosted by Howard Hanna Realtors who got to showcase the panoramic views from high atop this new building filled with chic, modern industrial condos. The sound system was kind of low key – but the sound carried for blocks despite being eight stories up. Opening the night was singer / songwriter Jett Prescott, who performed a mix of covers and originals on guitar and piano.
The Badlees show consisted of a mix of songs past along with select new songs. They played a handful of the 21 tracks on Epiphones and Empty Rooms, including "World in the Way", "Falling Behind", "Wanderlust", "Vigilante for the Golden Rule", and the infectious funk of "Nothing Like the Real Thing". However, the true show-stopper of the evening was a mainly acoustic performance of "Two States". This song from their last album Love Is Rain (and which we used as the title of our review of that album) has been rarely performed live and the slightly different arrangement last night was emotionally stirring. Other highlights from the show included "Silly Little Man" with dueling guitar leads, a reciprocal dueling harmonica/violin lead on "Spending My Inheritance", and an acoustic/dulcimer rendition of "Last Great Act of Defiance" from the groups very first EP, nearly a quarter century ago.
In all, the event was a laid back and intimate experience with band members mingling through the crowd (and standing in line for drinks along with everyone else) and a pleasant evening to enjoy the show under October skies, when looking for the next music fest look at country music concerts near me. Best of all, we got our copy of Epiphones and Empty Rooms to enjoy on the ride home and will be providing a review of that album next week.
~