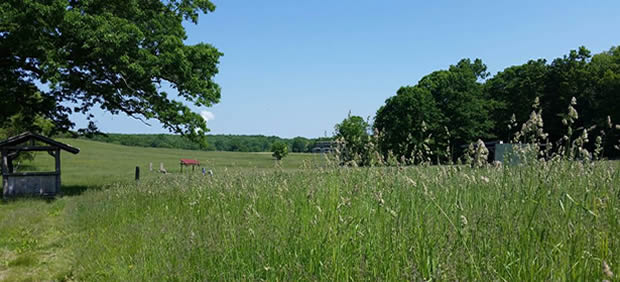 The 2014 Briggs Farm Blues Festival had an especially diverse lineup which featured many rock-based genres fused with the core blues that has made this ever-growing, 17-year festival so popular. Further, with nearly as many female as male performers, this year's Blues Fest reached a new dynamic.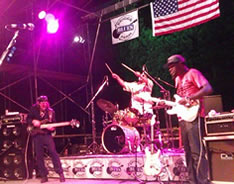 The headliner on Friday, July 11th was the Eric Gales Trio whose sound and technical ability harkened back to the style of the Jimi Hendrix Experience. Especially impressive in this late-night act was drummer Nick Hayes, who banged out multiple tangential fills that gave the performance a cool rudimental edge unlike any other act of the weekend.
Eric Gales is the guitar virtuoso who has had a long career in the business, starting in 1990 when he and his brother Eugene signed with Elektra Records, and scored a few minor hits in the early 90s. Gales is also a current member of the group Pinnick Gales Pridgen and both trios released LPs in 2013.
Buy Ghost Notes by Eric Gales Trio.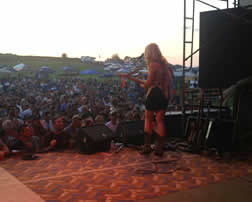 Samantha Fish is a 24-year-old phenom who drew the greatest audience reaction at Brigg's on Friday night. While her band and material tends to be a bit more rock than blues, Samantha's true expertise lies with her shredding lead guitar licks, which rivaled any of the impressive blues talent at the festival.
Fish first gained national attention in 2011 when she teamed with Cassie Taylor and Dani Wilde for the album Girls with Guitars and the subsequent world tour. She then went on to record her debut solo album, Runaway in 2012, followed by the equally impressive Black Wind Howlin' in 2013.
Buy Black Wind Howlin by Samantha Fish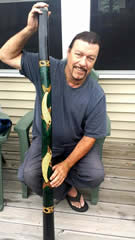 One of the most unique acts to brave the stages at Brigg's, Harper returned after a four year absence to perform sets on both the main stage and the "back porch". As mentioned in a Modern Rock Review profile on Harper, his music is unusual in the sense that you really haven't heard anything else quite like it before and attempting to squeeze his sound into a specific "genre" is counterproductive.
An Australian native, Harper has adopted the exotic didgeridoo and uses the earthy drone to occupy many of the fills between the verses. However, Harper also can rock with a traditional voice as well as belt out the blues with dynamic harmonica licks.
On the back porch on Saturday were a couple of interesting and unique acts. Gospel singer Beareather Reddy is a master of the performance arts as an actress, writer, producer, and singer. A native of Georgia, Reddy has performed in numerous plays in New York and used her stage presence to spice up her set.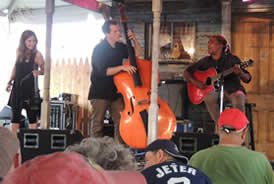 Pennsylvania's own Clarence Spady performed for the second straight year at the festival, but this year he played with an eclectic trio that included a fiddle player and a double bassist, making for yet another interesting and diverse set.
Back on the main stage, Alexis P. Suter performed like a woman on fire. The bass/baritone vocal phenomenon and her band are always in high demand at Roots and Blues festivals and venues throughout the country. Suter has been nominated for various awards as has her critically acclaimed album Two Sides.
Buy Two Sides by Alexis P. Suter Band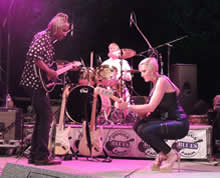 The headliner on Saturday was Eddie Turner and The Trouble Twins, who capped off this rock-oriented blues feat with a tight, rock-oriented performance. Cuban born Eddie "Devil Boy" Turner cut his chops in Chicago before ultimately migrating to Denver, CO. Along the way, Turner made five albums with the Otis Taylor Band as well as being a guitarist for the Colorado based Zephyr Band. Since 2005 Turner has released three solo albums, with the most recent of these being the 2010 release Miracles and Demons.
Turner's brand new trio includes the "Trouble Twins", bassist and vocalist Anna Lisa and drummer Christopher Rose, who added an explosive and entertaining element to close the show on Saturday and the festival for 2014.
Buy Miracles and Demons by Eric Turner

Since its inception in 1998, Brigg's Farm Blues festival has grown each year in attendance and stature. This, of course is a double-edged sword and one of the issues that has started to arise is the "bleed through" from both stages as the Back Porch has increasingly moved from acoustic acts to full-fledged electric bands. Still, after the fine performances of 2014, we look forward to what Brigg's has to offer next year.
~