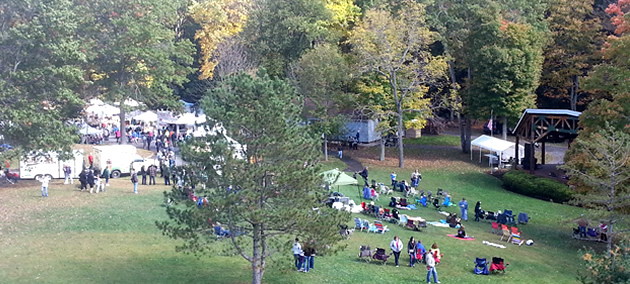 The 31st Annual Little Buffalo Festival took place on Saturday October 4th, on the first real day in Pennsylvania that truly felt like Fall. The cool weather and fantastic scenery made the perfect setting for the festivities and great music. Sponsored by Perry County Council of the Arts, the festival is held on an afternoon each October and contains plenty of vendors, exhibits, workshops, demonstrations, food, and special activities for kids. There is also a Writer's Nook with poetry readings throughout the afternoon. But the real highlight of the Little Buffalo Festival is the diverse potpourri of music on two stages.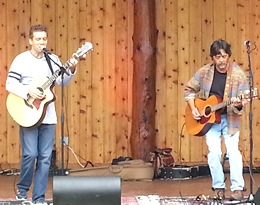 The large Main Stage is situated in a natural amphitheater and things got started off at Noon with the unique choreography and stage presence of the Rebel Heart Irish Dancers. This was followed by the acoustic duo Father and Son, featuring Stan Hoke, a 30-year veteran performer with his long time group, The Not Guilty Band, and his son Wes Hoke, who recently released an album called Charlie Don't Surf. Their set consisted of a nice mix originals and covers, including a cover of the seventies classic "Stuck in the Middle with You" when Stan played a cool slide on the acoustic guitar.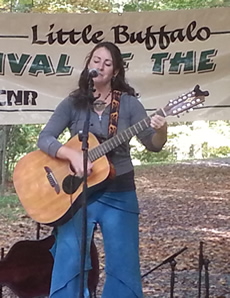 The Acoustic Stage is much more intimate, set along a path through the woods with bales of hay as makeshift seating. Starting things off on this stage was Matt Miskie, a traditional folk performer who did original renditions of covers ranging from Tom Rush to Joni Mitchell and other folk ballads, along with originals from his album A Bend In the River. Next up on the Acoustic stage was Mycenea Worley, who belted out her well-crafted original songs from her EPs Love and Siren. Mycenea talked about her origins in nearby Liverpool, PA and the seeing of so many familiar faces at the festival as she alternated between a 12-string and alternately-tuned six string acoustics. She introduced the Janis Joplin classic "Me and Bobby McGee" by saying "this song has always reminded me of summer, so I guess today I say goodbye to summer…" and proceeded to wow the audience with her dynamic rendition.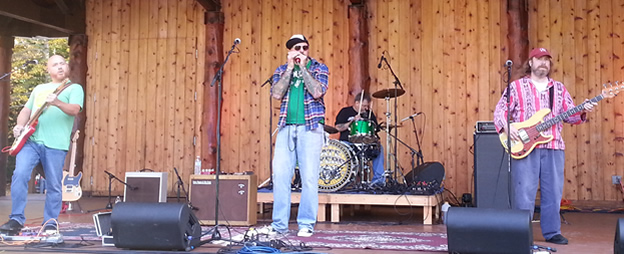 Back on the main stage was the dynamic blues of Nate Myers and the Aces from Harrisburg. Myers performs traditional, upbeat blues with entertaining (and often improvised) vocals and harmonica, while his three-piece backing band follows along with expert proficiency. During a performance of Johnny Cash's "I've Been Everyone", the group picks up the pace a couple of times until it all works into a musical frenzy, while the song "Rise Above It" contained multiple entertaining sections. The group recently released their latest album It's My Music.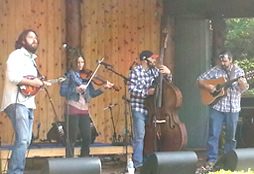 Next up was the quartet HogMaw, who perform blue grass so hot that they call it Thundergrass! The four piece group consists of Ryann Lynch on fiddle and foot percussion, Johnny Calamari on upright bass, and Matt Baldwin and Colin Reeves, who alternate among the stringed instruments guitar, mandolin and banjo. In 2013, HogMaw released the album Ideal Proof.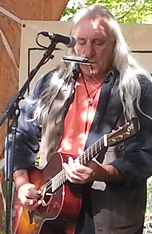 Later on the acoustic stage was Antonio Andrade from nearby Duncannon, PA, who gave a passionate performance of originals and covers, led by some tunes from his latest CD Life Shakes. Andrade was followed by the Acoustic stage headliner Colebrook Road, bluegrass aficionados who recently released their self-titled CD of original compositions Colebrook Road. Finishing things up on the main stage was the Beatles tribute band Sweet Loretta Fat, a six-piece group from the Philadelphia area that often performs Beatles albums in their entirety.
We've covered Little Buffalo before and, as this ever-growing festival continues to expand, we encourage you to check it out each October.
~
For more information on the Little Buffalo Festival, visit their website or email littlebuffalofestival@yahoo.com.