On June 2, 2018, Dustin Douglas & the Electric Gentlemen performed at the Kirby Center in Wilkes-Barre, PA following the release of their second LP, Break It Down, the previous day. Below is an interview conducted by Margaret Neiswender of the three group members, guitarist and vocalist Dustin Drevitch, bassist Matt Gabriel, and drummer Tom Smallcomb.
~
The anticipation of meeting the group again was exciting. Knowing Dustin from the last interview, I knew it would be a warm welcome. Tom and Matt were new to my interview however all three men were just so friendly and welcoming that I felt comfortable speaking to them and gathering some awesome information about their new album and their expectations.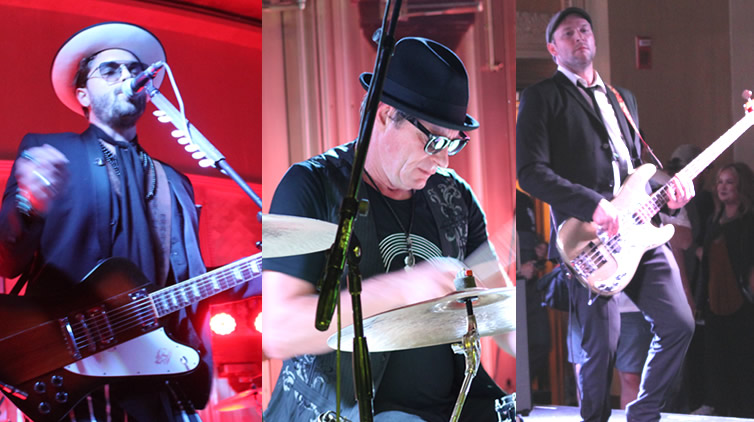 As we got started, the first thing we spoke about was the fact that it had been a year since our last interview. Dustin stated that it actually had taken that long to get the new album finished. Blood sweat and tears went into the making of Break it Down because they wanted to get just the right selections onto the album. This was one of the reasons why after much debating, the song "No More Tears To Cry" was included too as it was also on their 2017 EP Blues 1. He said, "We felt that the song fit this album perfectly so we decided to add it on."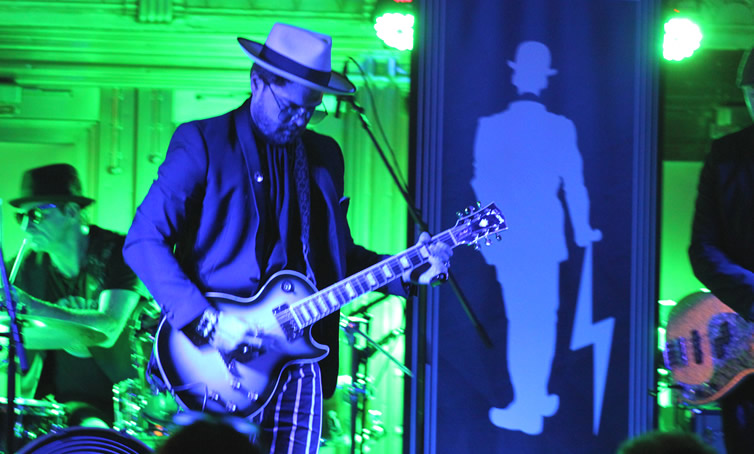 The thought of the album release was bittersweet for them. "So surreal" was the exact statement. Tom, also being from Northeast PA, knew Dustin before getting on board with this group. He was with other bands and even touring the east coast for awhile. Matt had been with other bands doing his thing as well until he met Dustin and he felt like he met the right person who would complement his talents on the bass. They all got together and jammed and then history was made.
When I asked Dustin about their chosen attire, he stated that it is what people like to see. He said, "It just fits so well with our music style and it is what people want." The coordinating suits work so well for them as they all are like minded in their professional appearance and goals.
As the interview came to a close we wished them well and shook hands.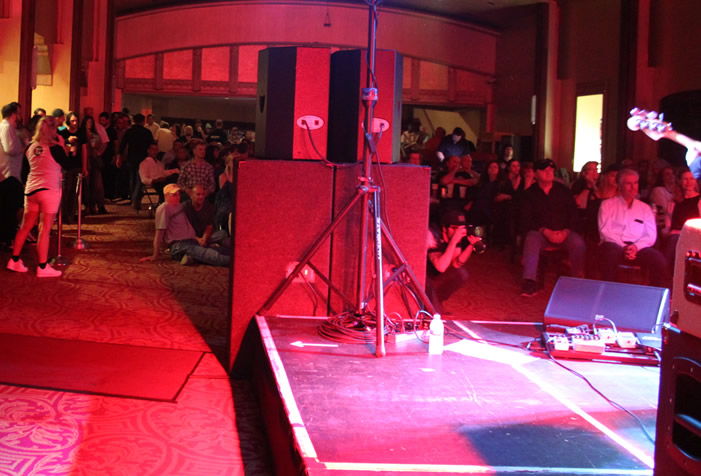 On the stage the trio performed and sang with style and flair. Their swag was so incredible that you could feel the energy. They played songs from all of their albums as well as a cover song by David Essex. Everyone in attendance appeared to have a great time. Everyone was moving to the music, some in their seats and some out on the dance floor. With a standing-room-only size crowd, the overall vibe in the room was electric and the presentation included live size banners of the distinct "electric gentleman" logo to the specialized drinks named after album songs like "Fat Cat" and "Tragedy".
Whatever age you are there is no doubt that you would enjoy this awesome band. They have a way of getting the audience to fall in love with their style. Dustin Douglas will have the hearts of many for years to come.
~
Dustin Douglas and the Electric Gentlemen online






Dustin Douglas and the Electric Gentlemen website
Buy Blues 1
Album review of Break It Down