Dustin Douglas & the Electric Gentlemen is a power trio based in Wilkes-Barre, PA that delivers an authentic sound reminiscent of some of the better classic blues-laced rock-n-roll of years past. The group is led by guitarist/vocalist/composer Dustin Douglas Drevitch, former leader of the group Lemongelli and recent guitarist for The Badlees. Drevitch has been performing since age 13 and soon became one of the most sought after live and session guitarists in Northeastern Pennsylvania. After releasing three independent albums with Lemongelli, Drevitch was enlisted for live shows after the Badlees reunited in 2010 and was a full member of the band when they released their 2013 double album, Epiphones and Empty Rooms.
The following year, Dustin Douglas released his debut solo album, the pop/rock flavored Black Skies and Starlight and it received good reviews. However, Dustin really wanted to return to his blues-rock roots and with the help of bassist Matt Gabriel and drummer Tommy Smallcomb, the newly coined Dustin Douglas & the Electric Gentlemen released a modern classic with their 2016 self-titled record. With a heavy, bombastic blues/rock sound, this album sold out of its first pressing and was received well by both fans and critics.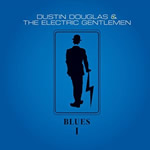 While the group plans to release another full album planned for next year, the group decided for 2017 to release a pure blues based EP called Blues 1. Starting off with a dramatic version of John Lee Hooker's "Boom Boom", the EP next migrates into the fine groove of Muddy Water's "Champagne and Reefer". Albert King's "Born Under a Bad Sign" is at once close but still distinct from the famous version by Cream, while the rendition of Freddie King's "Big Legged Woman" features a catchy funk groove. The EP concludes with its best track, which also happens to be the only group original, "No More Tears", featuring a nice slide guitar and droning rhythms. Overall, while not having many surprises, Blues 1 does feature a good selection of songs, strong rhythms, and soulful vocals throughout.
~
Dustin Douglas and the Electric Gentlemen online






Dustin Douglas and the Electric Gentlemen website
Buy Blues 1
Review of Black Skies and Starlight