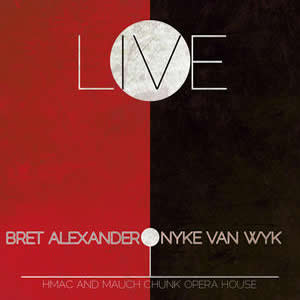 A truly great song sounds good in more than one form. This theory is clearly illustrated with the release of Live HMAC and Mauch Chunk Opera House by Bret Alexander & Nyke Van Wyk. Included here are a few cover tunes and some well-trodden originals, most of which were formerly released by the Badlees, the band that Alexander co-founded and Van Wyk joined in recent years. However, each of these songs are reinterpreted with fresh, new musical arrangements and performed differently from the album versions making each track feel fresh and new.
The material on this album was taken from live performances in Pennsylvania in 2016. The first was at the Harrisburg Midtown Arts Center (HMAC) in February 2016 during the farewell show for HotWingJones. This show was being professionally recorded for that band with Alexander and Van Wyk playing as one of the opening acts. The other show was recorded at Mauch Chunk Opera House in Jim Thorpe for the 40 Story Radio Tower podcast. Alexander was slated to perform solo in between some variety acts but was pleasantly surprised when Nyke Van Wyk showed up with his violin and ask him to join in.
The album begins with "Drive Back Home" from the Badlees' 2009 release Love Is Rain. This may be one exception which doesn't vary much from the original studio recording, except for the stripped down arrangement, but it is a fine performance with Alexander starting solo and Van Wyk coming in subtly with some staccato notes before providing a soaring, post-bridge lead. "Unbreakable" is a track from the debut EP of Bret's current group, Gentleman East. This version has a dark/folk, Springsteen kind of vibe with a dynamic vocal range throughout. For much of his career with the Badlees, Alexander was relegated to backup singer duties vocally. But since he has taken  the microphone, his voice has really gotten stronger with more flexion and expression. On this sparse album, his vocals may be strongest of all, really bare and out there with no where to hide in the mix.
Next up are two nearly forgotten gems from Epiphones and Empty Rooms, the Badlees' final record in 2013. "That Train" kind of eases into the acoustic format and has a real classic feel which falls somewhere between R&B and classic country. The catchy "Vigilante for the Golden Rule" sounds like an entirely different song from the original in this stripped down form.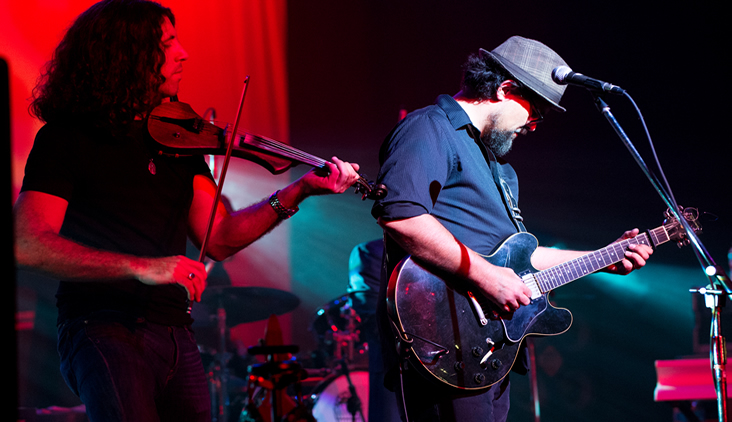 This album includes two covers that Alexander has been doing in different formations for years. Springsteen's "Atlantic City" first appeared on a Badlees' acoustic EP in the late nineties, while "John the Revelator", a Gospel standard first recorded by Blind Willie Johnson in 1930, is a more recent addition to his repertoire. This version more replicates the performance by Son House, a classic Delta Blues man with whom Alexander strongly identifies with vocally.
Perhaps the best surprises on Live HMAC and Mauch Chunk Opera House come with the new interpretations of popular Badlees songs. "Don't Let Me Hide" is so beautifully done and very distinct from the original as the violin soars over the acoustic guitar to emit an incredible chorus of sound from just two instruments. "Fear of Falling", a true classic as well as pop hit in the mid nineties, features a guest appearance by Joe Cigan. This is performed through a distinctly beautiful arrangement with soulful vocal dynamics and the trade-offs among mandolin, acoustic guitar and violin, all culminating with a coda climax which may even surpass the classic recording of this song. The album wraps up perfectly and in succinct fashion with "My List of Things", a rather obscure Badlees ballad which was recorded as part of the Concert for a Cause charitable series. This elegant, reflective song tugs at your heartstrings and leaves you wanting for more.
When these songs were recorded, there was no intent to release them, but upon listening to the recordings the musicians found that they had recorded some gems and so an album was born. Bret Alexander and Nyke Van Wyk plan to play a few shows together over the summer to promote this album and will likely be working together on future projects.
~
Buy Live HMAC and Mauch Chunk Opera House