For their third release, Central PA rock trio Shift Seven has forged a dynamic, 6-song EP with added sonic dimensions. While the band's previous two albums stayed within the bounds of a gritty boogie-rock sound, Shift Seven III features richer textures and arrangements and explores more rock sub genres.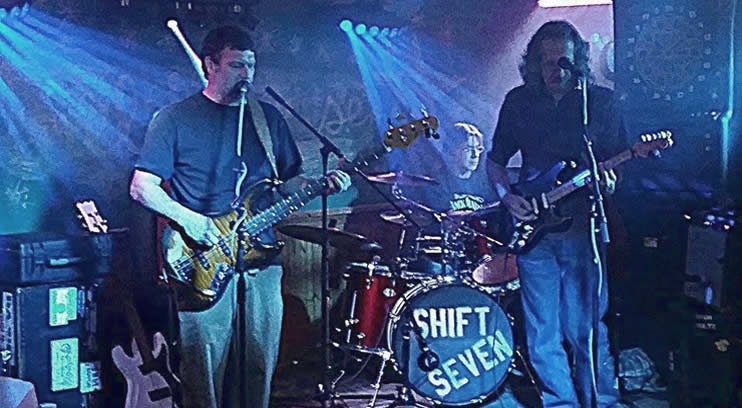 Formed in the 1990s, Shift Seven is comprised of drummer Rick Boltz along with Terry Gayhart and Keith Myers, who rotate between lead vocals, guitar and bass, depending on the song. All three members are songwriters and the switching of instruments allows the music to be original and a bit eclectic. The group hails from the Jonestown / Lebanon area of Pennsylvania where they have had steady local success over their two decades of playing together. In 2007 the group released their debut LP called 1.5 Days, which was followed in 2011 by the album Love Lust.
The III EP was self-produced and recorded/engineered at After 7 Studios in Mechanicsburg, PA by Bob Richardson, who also provided some strategic keyboard parts to many of the songs. Also contributing to the album was blues harpist "Magic" Chad Bruce along with backing vocalist Pam Weaver.
The music roars in with "Black As Coal" with a sound which is a hybrid between blues rock and the hyper classic rock of group's like Uriah Heap, especially due to Richardson's thundering, amplified B3 in the intro. This fun and entertaining romp is succinct and features several sudden stops which were initiated as a "happy mistake" that worked well for this tune. Although it has a similar title, "Black Cloud" has a completely different feel as it grooves consistently without stops. Gayhart's lead vocals are smooth above the song's funky riffs and rhythms with lyrics written by Boltz about a woman who interfered with a relationship and tore it apart. "Done In Again" was written about "life, taxes, bills, government etc." and has a harder, darker feel musically while maintaining a lot of motion and dynamics throughout.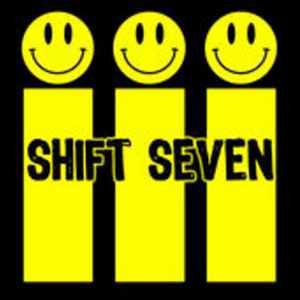 The most radical change musically comes with the track "Jonestown Gone", with a country feel and whole new musical arrangement including piano by Richardson and harmonica by Bruce. Lyrics and lead vocals are provided by Myers, which drew inspiration and the protagonist from the band's home town. "Love Is a Crime" sees a return to the rock/funk arrangement with a fine groove throughout. The EP concludes with the instrumental "Media Man", where a "jam battle" between Bruce's nasty harp and Richardson's Hammond running through a cranked Marshall amp.
Shift Seven plans on recording more albums or EPs in the near future with differing recording locations. Gayhart states that their goal is a quality end product that they are proud of for that moment in time adding; "our goal is world domination but we are proud of what we have accomplished and happy with our local success."
~
Shift Seven online




Shift Seven website
Buy Shift Seven III