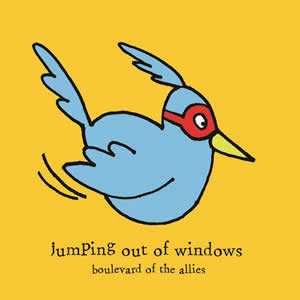 The Pittsburgh based group Boulevard of the Allies proudly displays their British-American connection in their main logo on their website and other online channels. In fact, the very name of the group comes from the name of a thoroughfare in Pittsburgh which was dedicated in honor of the World War I allied forces nearly a century ago. Beyond the coming together of musical natives of different nations, the music itself on their latest album, Jumping Out of Windows, is an eclectic mix of styles which adds further relevance to their name. These styles range from modern and new wave rock to an array of diverse classic genres like folk, jazz, ska, R&B and funk.
Boulevard of the Allies can trace their roots to 2007 when guitarist and vocalist Joel Lindsey left his home in suburban London, England to embark on a solo tour across America. Lindsey eventually settled in Pittsburgh and upon meeting bassist Jim Kurasch was convinced to start a new group. The duo were later joined by drummer Tim College, who also has a home studio and the production skills to record professional albums. In 2010, the group released their debut album, Man In the Photograph, which drew much influence from Lindsey's travels. After five more years of refining their sound, the group had built up a backlog of new material to record in a follow-up record.
Jumping Out of Windows contains a hardy selection 13 tracks, starting with the song "She Said No", an upbeat and choppy pop song with the verses built on Kurasch's crisp bass riff in a quasi-ska arrangement. The album then takes a turn towards heavy funk/rock on the fine song "Oh Lucy", with a good melody and interesting musical textures. "Someone to Love" features driving modern rock built on Lindsey's guitar textures and strategically strained vocals as intensity increases late in song. "I Don't Love You Anymore" ups the quality even higher with a smooth mixture of guitars, exceptional lead vocals (especially during the chorus sections) and the versatile use of several styles. This track expertly combines its sad theme with an array of brightly performed music and makes it all work.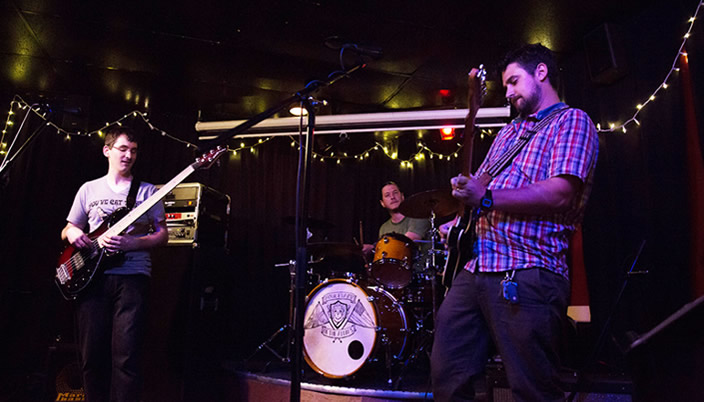 Continuing on, "Baby I Gotta Leave You" is pretty much a standard rocker with simple riffs and theme, but with some soulful tangents ala Paul Rogers of Bad Company. "Half the Love" has an overall light jazz vibe with complex bass and drums by Kurasch and College that make these underlying rhythms dynamic and exciting. "All I Ever Had" may be the first track to stretch a bridge too far in trying to diversify musically with a funk/rap in the bridge, while "Lady of Love" another genre-bender with some Western elements fused with a traditional show tune crispness which overall shows the outstanding playing by each member.
Coming down the stretch, the album may lose some steam due to the sheer volume of tracks. These are individually entertaining and rewarding to differing degrees but may get lost in the overall structure of the album. "Number In Blood" is a choppy, odd rocker with heavy theatrical elements and a blistering guitar lead towards the end, while "My Love Is Going Nowhere" is a soft acoustic ballad with high-pitched folk vocals and an otherwise sparse arrangement which keeps it simple and honest. "Don't Compromise" is another pleasant, sing-songy song which hearkens back to groups like The Lovin' Spoonful, while "James the Cat 2.0" is an unfortunate closer as a fun but frivolous remake of a song from the group's Man In the Photograph album. The best song on the latter part of the album is "Watch My World Die", a dramatic and dynamic rock track built on a basic rock waltz and layered beautifully with multiple guitar textures and fine rhythms. The lyrics to this song are delivered through the most dramatic and superb vocals and take a sobering look at the world;
…this is not the news, this is just an excuse for amusing our minds with facts of no use / this is not fear, this not being brave, this not a prayer to ensue I'll be saved…"
Boulevard of the Allies continues to be an active band, performing across the East Coast of the U.S. and few times a year in England. With the release of this refined and entertaining album, the future looks bright for this band.
~
Boulevard of the Allies online



Boulevard of the Allies website
Buy Jumping Out of Windows