This latest version of Maggie's  Corner explores a January 2019 night of original music from two dynamic, Pennsylvania-based acts at the Mauch Chunk Opera House in Jim Thorpe, PA.
A new year a new start!
This  was my first concert of the year and what better way to start off  than with a show featuring two of my favorite artists; Dustin Douglas and the Electric Gentlemen and Vanessa Collier. What makes this even better is the venue, Mauch Chunk Opera House, is a great place for a show like this and it was filled almost to capacity with fans of all ages to see the event. Dustin Douglas was my surprise. When I purchased the tickets I had no clue he would be there and, when I spoke to him, he told me that it was a last minute decision.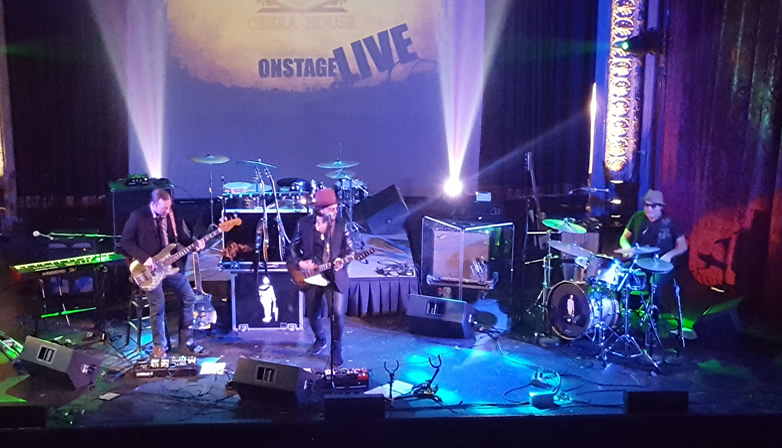 The performance by Dustin and his band took the audience to a whole new height of enjoyment as he rocked the house. I had the honor of talking to the lead vocalist/guitarist, a very personable guy who seems always happy to see me and talk to catch up on things.
Vanessa was also pleased to see me as I ran to the stage to greet her with a hug, something I find amazing when a group who plays so many  shows can remember faces of their loyal fans and other enthusiasts.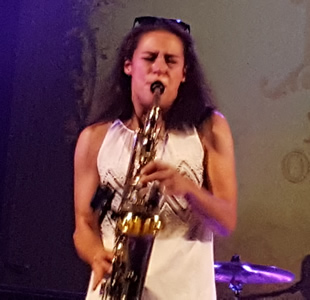 Ms. Collier was awesome as she played songs from each of her two released albums, Heart Soul and Saxophone and Meeting My Shadow. Vanessa wowed the audience with her talent on several instruments, especially saxophone as well as lead vocals. She told stories of her life and her beginnings of how she knew each of her band members. One story that stuck out the most however was the story of her saxophone instructor/mentor who is now in hospice care. He encouraged her to play by quoting this phrase to her; "In everything you do, do it with joy, play with a happiness in your heart". Vanessa then dedicated a solo sax number for him, putting the audience in awe as she played with her whole heart and you could see the joy it gave to her. The overall atmosphere was magical with a feeling of freshness. A new number called "Fly High Incubus Fly" where drummer Nick Stevens played an instrument called a shitar, a combination guitar and symbols that had a very unique sound.
Overall, there is always a uniqueness in both of the groups performances, everyone always enjoys the music and has an amazing time. At the end of Vanessa's show, she encouraged us to dance as it was her last song, and my husband Gary and I were among many who did not hesitate to get our "groove on".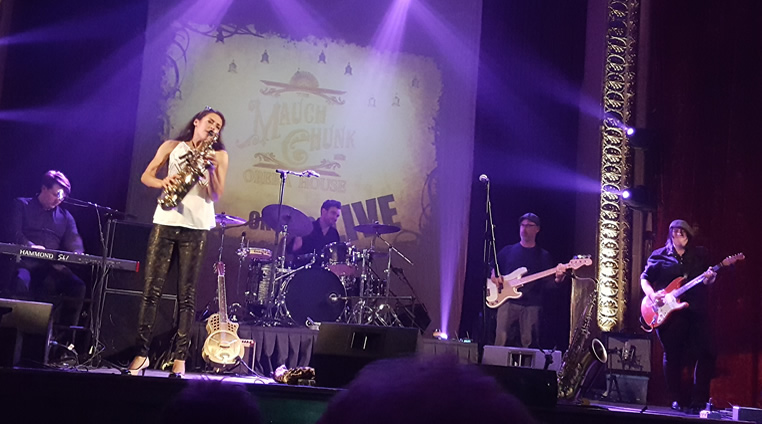 I can not wait to see these artists again as Vanessa had been my last blues artist to see in 2018 in Reading and now my first in 2019, at Mauch Chunk Opera House, with a surprise from Dustin Douglas and the Electric Gentleman. This is just the beginning of my new journey in writing about all of your favorite artists along with some local favorites and new upcoming artists. So enjoy, have fun and remember,  "Music makes the heart sing, so let your soul dance to its beat".
~
Vanessa Collier online




Vanessa Collier website
Buy Meeting My Shadow
Dustin Douglas and the Electric Gentlemen online






Dustin Douglas and the Electric Gentlemen website
Buy Blues 1
Album review of Break It Down