Briggs Farm Blues Festival in its 21st year started off with music for the campers and those who wanted to come out just for the evening. "Slowhand in the Woods", a concert dedicated to the music of Eric Clapton, was the choice for this year's kickoff event on Thursday night. The Mighty Susquehannas played covers from Clapton and got people of all ages to dance and party to the music, starting the weekend off to some good classic tunes.
On Friday, I began the evening by running into a great musician who I interviewed two years ago, but that did not stop us from greeting each other with a hug. The personality of this beautiful young lady is beyond amazing and her memory of our last meeting was still fresh in her mind as we discussed how much Briggs Blues Festival has grown since then and how her career as a musician has grown as well. The woman I speak of is Vanessa Collier, and we spoke of her newest album, Honey Up, which was released that very day (July 6th) and consists of a combination of styles, from blues to jazz and all types of dance-able music. Vanessa stated that Briggs Farm is her favorite place to play for many different reasons, including the stage, the sound system and the people who she finds very friendly and helpful. We hope to see Vanessa Collier return in the future.
The Friday headliner, Samantha Fish, having set time aside for our interview, was an amazing individual. Her talents on the guitar are beyond incredible, not to mention her voice. During the interview she had mentioned that even though she plays guitar, she still dabbles with the drums.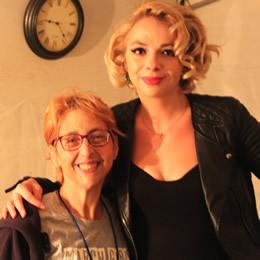 I brought to Samantha's attention that this was the first year Briggs Farm had female headliners on both nights and she seemed very humbled and honored by the fact that she was a part of all of that as people feel that at times women do not often represent enough of the big stage. This definitely was a great year for women musicians. Samantha released two albums of differing style in 2017 and when I asked her about a future album, she mentioned that one is still in its creative stages and that it will not be until the recorded stage that the actual style will be known. With all of this in mind, Samantha noticed the crowd has gotten larger since her last Briggs appearance in 2014 and this rising star was super excited to perform for all who were in attendance.
The rest of Friday's performances were also amazing with performances by The National Reserve, Shawn Holt & the Teardrops, Swampcandy, Dustin Arbuckle & The Damnations, MiZ, Gabe Stillman Band and Launch Pad. In each case, the crowd ran down to the stage as each one came on, leaving a sense of fulfillment all the way to the nights end.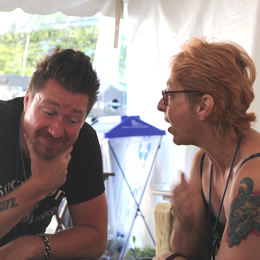 While interviewing Teddy Young on Saturday evening we got to know one another and what our interests were. He mentioned that his talents began at an early age as his love for music was evident by the time he was nine years old and performing is in his blood, as stated in his own words. Along with his band the Aces, he recently released the album Movin' On and later in the summer, Young will once again be heading the Bushkill Blues Festival in Bushkill, PA and he hopes to have a great crowd there on Sunday, August 19th.
I also interviewed Selwyn Birchwood on Saturday and this proved to be an interesting one as his personality really does not match his stage performance. He is very quiet and soft spoken when speaking one on one, while on stage he is as fierce as they come with a powerful voice and unique guitar presence. With a potent rhythm section, Selwyn jams to the music getting everyone in the audience to groove to the tunes, which include selections from his latest album, Pick Your Poison.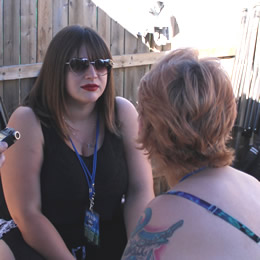 Performing at Briggs for the first time, Amanda Fish told of her new but still semi-secret album coming out later in the year to follow-up her acclaimed 2015 release Down In the Dirt. With an incredibly powerful voice and fantastic skills on the bass, Amanda gave a tremendous performance leading her tight trio on the festival's back porch. While each has a distinctive career in music, we asked if she ever performs with her sister Samantha and Amanda said that they do play together whenever their schedules will allow.
Amy Helm, the Saturday headliner, humbly spoke of how honored she was to be performing as the headliner and being a part of  Briggs two-night female headliners. Although this was the first year Amy has performed here at Briggs, she enjoyed watching one of the acts and seeing familiar faces in the crowd from her touring history and stated that she was much honored to be asked to perform and work anywhere. In September, Helm will be releasing her second album, This Too Shall Light, to follow up her fantastic debut, Didn't It Rain.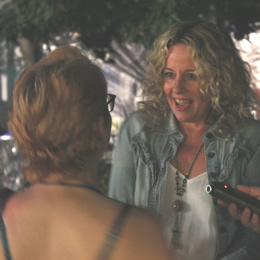 Amy mentioned her love for music at an early age as well, coming from very talented family members she knew that she wanted to be a musician as she states it is something that you just know that you want to do. When asked if she wanted her children to be inspired to perform, her comment was "they too love music and if they want to perform, then they can but also if they want to become accountants, then they can do that, it is whatever makes them happy". Watching Amy perform on stage was like watching an angel perform. Her glow was evident as she sang. The crowd went crazy over her and there was a feeling of awe. I do not think there was one person who could say that she did not perform to her fullest, as she made every one smile and crave for more.
Saturday's other performances included additional sets by The Mighty Susquehannas and The National Reserve, along with fine sets by JJ Thames & The Violet Revolt, Ursula Ricks, the 3rd Street Blues Band and Mike Farris & The Roseland Rhythm Revue. Farris returned on Sunday to close the festival with a special "Gos-Blues" performance.

Starting in 2016, Sunday performances have been an added to the Briggs festival and each year there are always great artists to perform the Gospel flavored "Gos-Blues" show. The performance by Ed Randazzo and Friends was breathtaking, as the audience just fell in love with the music and the powerful songs he sang. Everyone got up and danced. It was an amazing sight to see. We had the opportunity to speak with Ed as well his long time collaborator and producer Bret Alexander, guitarist Rob Husty and versatile violinist Nyke Van Wyk . When I spoke to Nyke, he mentioned his upcoming show in Lancaster with the group Gentlemen East called "Rock the Park". He also has a featured show at the Mauch Chunk Opera House in Jim Thorpe on September 7th.
The whole day was a relaxing end to the four day weekend where you could just chill and listen to the music if you wish or continue to jam to the music. However you enjoy listening to the Blues, Briggs sure has it mastered to please all. The Briggs family is kind enough to open their hearts and souls to this as well as their land, why not help them continue to grow by coming out on a Sunday, believe me it is worth the time to experience the "Gos–Blues".
Since its inception in 1998, Briggs Farm Blues festival has grown each year in attendance and stature. We look forward to what Briggs has to offer next year in 2019.

~
Briggs Farm online



Briggs Farm website
More on the 21st Briggs Farm Blues Festival