Well folks it's almost that time of year again where we at the River of Rock music network will be attending the 24th annual Blues Festival at Briggs Farm. After talking with Richard Briggs, this year is definitely going to be an unforgettable year. For most, the pandemic has hit hard and kept everyone from doing things that we all enjoyed doing, such as live concerts and music. Mr. Briggs has used this time for the expansion of the farm to hold more campers as well as new and returning vendors This year, as many as seventy could be there. Something different this year is food trucks as they decided to bring in some new cuisines. Also new this year is the Conyngham Brewery which will be on site selling their craft beer. We are still able to bring our own stuff,  unlike many other venues. The main stage has moved and is larger (twice the size) and will remain in its newly located area, this was done so that the farm could accommodate a much larger capacity than in prior years.
Ticket sales have been good, they have surpassed 2019 sales when  they had 8,000 in attendance. The phone has been ringing off the hook and people are just ready to get back to some sort of normalcy. Mr. Briggs mentioned that he has extended the honoring of returns for those who had tickets from last year just in case the timing wasn't good for this year, however with that being said, he hasn't had that many cancelations. Expected number of people this year could reach as many as 12,000. With 450 acres of land, the expectation is to allow for growth yet keep it family friendly and not a corporate money making event as that's what keeps the atmosphere friendly and allows all to make some new friends along the way.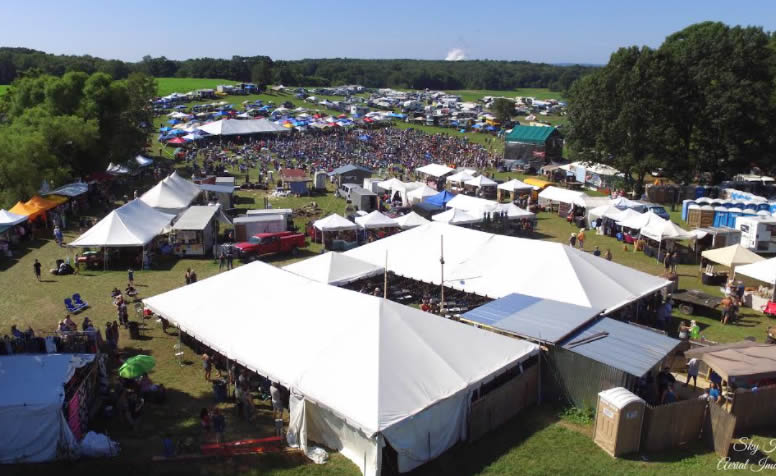 In January of this year, the Briggs Family had to make a decision as to whether or not they would be having the festival as this would be the crucial timing of preparing the last minute details of the farm. The decision was unanimous and so they began preparing for the July 8th, 9th and 10th 2021 Festival. They came to the conclusion that if they started and then had to cancel, they would but they had to begin the process of getting prepared.
We have been so fortunate this year as the bands would remain the same with some extra added bonuses. One surprise is that Vanessa Collier is going to begin Friday evening. Last year she had prior commitments before the pandemic that she could not be a part of the festival. Fortunately for us this year is a totally different story as Richard had Vanessa booked early. There are some new back porch stage acts as well. More acoustic is what they wanted to go with this year for that area just to bring something new.
In all, this is the best news for music fans. We are able to return to the enjoyment of live music, the possibility of making new friends as well as seeing friends that we had made but couldn't see because of our world being turned upside down. This will no doubt be an unforgettable year.
Hope to see you all there.
"Don't let the memories of yesterday bring you down, let the music in your soul lift you to the heights of happiness and delight in it"
---
Briggs Farm online
Briggs Farm Concerts
88 Old Berwick Hwy
Nescopeck, PA 18635
570-379-3342
​briggsfarmblues@gmail.com
---