At this year's Reading Blues Festival, we had the opportunity to talk with Dennis and Duane Young, the owners and craftsmen of Young Custom Guitars in Nuremburg, PA. This father and son duo began their business (then known as "Double D Cigar Box Guitars") in 2009 and have since produced hundreds of hand-crafted cigar box guitars.
The cigar box guitar dates back to around the time of the Civil War, shortly after cigar manufacturers started packing their product in portable wooden boxes. The earliest cigar box instruments, which included fiddles and banjos, were developed and performed by African American performers in jug bands and the earliest blues musicians. These instruments soon gave way to more contemporary acoustic instruments, with a slight resurgence during the Great Depression in the 1930s. In the early 21st century, a modern revival of these instruments has been gathering momentum with manufacturers like the Young's.
These instruments use the wooden boxes as resonators, with the Spanish cedar wood covering from Latin American locations such as Nicaragua and the South American Andes mountains. The guitars each have either three or four strings which are often tuned to an open tuning, such as 'open G' with the fret boards varying in style and type of wood from oak to mahogany to local ash. The instruments are amplified much like acoustic/electric guitars, with pickups placed within the cigar box itself.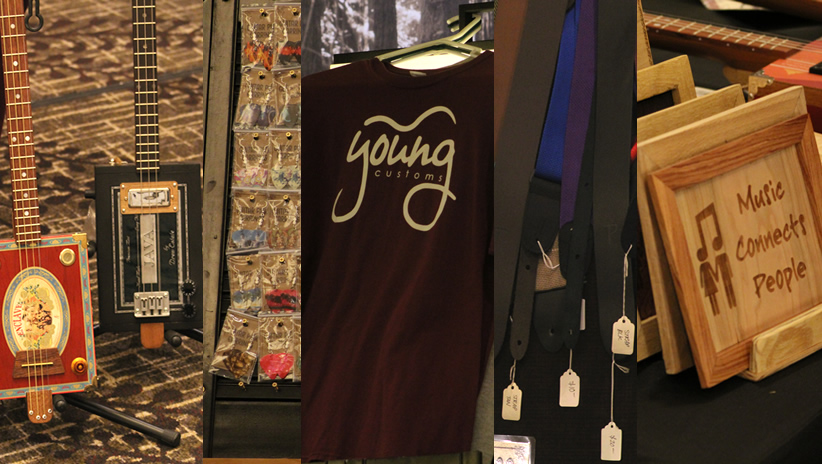 With each Young guitar custom built, the family-run business has a limited inventory at any given time. So they branched out to include some custom accessories such as guitar straps, guitar pick earrings, t-shirts and custom laser carved wooden plaques with a variety of music-related sayings. Beyond the Reading Blues Festival, Young Custom Guitars are regularly displayed at other Pennsylvania festivals such as Guitarmaggedon in Scranton, the Billtown Blues Festival in Williamsport, Knobel's Covered Bridge Festival, and the Briggs Farm Blues Festival.
~