NOTE: This article was originally published on the DAMES of Pa website.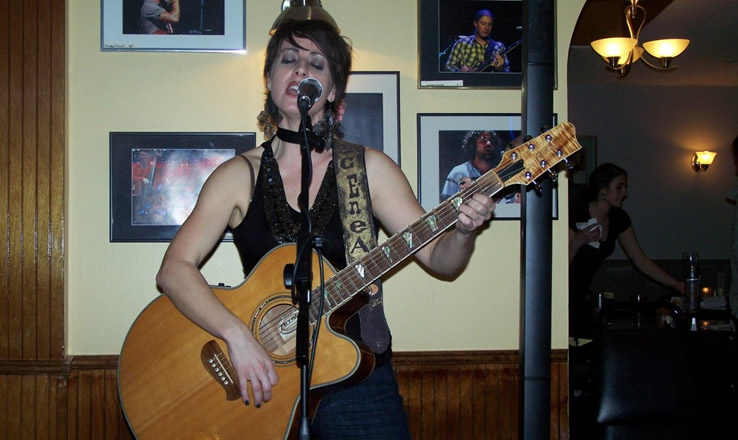 Mycenea Worley is tonight's entertainment at The Brewhouse in Camp Hill. She is singing and strumming her guitar on the "stage" which is really just an area between the bar and dining room where the tables have been pushed aside. She is playing a diverse assortment of covers including a few surprises from Led Zeppelin, Peter Gabriel, Roberta Flack and Johnny Cash. She even made a Britney Spears song sound almost legit. Mycenea's delivery of these familiar tunes is refreshingly original with unique arrangements showcasing her gutsy yet graceful and beautiful vocals.
Mycenea's original compositions are from the heart. In "Low" she sings about having your heart broken and not wanting to believe it; "I've been trying to get a message from my heart to my head…" "I Love You" is a pretty but powerful song, emoting positive energy with an infectious melody.
The crowd in The Brewhouse is usually pretty quiet, but tonight they were singing along to "Ring of Fire" as Mycenea egged them on. She has a an outgoing and personable stage presence making the audience feel as though they are her personal guests for the evening. Between sets she mingles with the audience evoking some smiles by handing out Kung Fu Panda Valentines to her friends and new fans.
Mycenea describes herself as a "late bloomer." She says while she has always loved to sing and was active in choral groups and musical productions during her school years, she didn't start playing guitar until college. She credits PA artist, Jeffrey Gaines as the reason she bought her first guitar. She told of how she approached him after one of his shows. According to Mycenea, the conversation went something like this, "She said, 'I wish I could play – that must be the best thing ever!' and he said, 'Do you have a guitar?' And I said, 'No.' and he said, 'Well… you'll need to get a guitar.' and he smiled. And it was one of those 'Duh!' moments. I had all of these excuses in my head about being too old to learn to play and he reminded me that all I had to do to get started was to buy a guitar. The very next day my mom and I went up to the Susquehanna Valley Mall and I bought a Lotus with a silver finish and a Himalayan Pyrite picks guard. Guitar World magazine had dubbed it the classic vintage cheesestick of the future".
Even with her passion for singing and newly honed guitar skills, Mycenea says she didn't gain confidence as a performer without some encouragement. "I always really held back because I was pretty insecure about my voice. I didn't really start getting comfortable in my skin and letting loose as a singer until I was about 28. I played in a few groups with two guys, Chris Auxt and Darrell Troutman, and those two, Chris especially, really pushed me in a good way." She credits her friends with pushing her and helping her grow. "I would strain for the notes and fall on my face in front of those guys because we were friends and I felt comfortable making mistakes in front of them…. But – that's how you grow. I'm hopeful that I'll look back on some of these recordings in a few years and think, "I've come a long way." That's something that makes me feel proud – because I always work at getting better, or what's the point?"
As the evening rolls on and the crowd moves out of the back dining room and towards the music in the bar, Mycenea's third set of the evening is even more energized than her first." I really like to interact with the crowd – that's what music is all about – connecting with people and entertaining them. That's why I look forward to going out and playing every weekend – even when it's cold and I think, Man I just wish I could snuggle up on the couch with a book and call it a night, two minutes after I start playing I'm amped up and ready to go all night. When I see people smiling or chair dancing and singing along that's the best thing ever!"
In September of 2009, Mycenea released her debut EP. Love was recorded and produced by Bret Alexander and has been well received selling out of it's initial pressing. But don't worry, Mycenea has ordered more and they are available again!
Mycenea is busy working on her follow up to Love . She says she expects to work with Bret Alexander at Saturation Acres again this summer recording and producing some songs. She is also excited to have Joel Dobbins producing one of her songs as well. Mycenea has a busy schedule with gigs all over Central PA so it should be easy to catch a performance. When you go, be sure to buy a CD and tell Mycenea that the Dames Of PA sent you!
~
Mycenea at Reverbnation
Mycenea's Facebook Page
Mycenea's profile on Modern Rock Review
NOTE: Mycenea Worley donated the song "Low" to the Dollars for Diane compilation album.