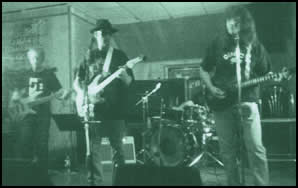 With a playlist that transcends many rock sub-genres, a lead vocalist role that is ever-revolving throughout the show, and a solid edge of melodic rock, Wired performs an entertaining live act. The band performs covers from Elvis Presley to Kid Rock, from Lynard Skynard to Smash Mouth and various acts along the rock pantheon in between.
Based in Newport, PA, the band is anchored by a husband and wife team of guitarist John Miller and keyboardist Sandy Miller. The band was formed about four years ago and consisted as the same five-piece group until last July (2011) when Phil Brosius took over as lead guitarist. Brosius, has performed in a variety of Central Pennsylvania bands throughout the years, including Silver Creek, China White, No Way Out, Shovel Head, Spent, Jezebel Sons, and The Resonators. He is currently composing some original songs for a future project.
Bassist Eric Spotts performs lead singer duties on a couple of songs and provides a solid rhythm throughout the show, especially on the centerpiece "I'm Your Captain/Closer to Home", originally written by Grand Funk. Spotts also currently performs in the power trio B.B Rock & The Ringers as well as the hard rock outfit Iroquois Confederacy. Drummer Tom Sikorsky rounds off the lineup, providing a solid backbone to the band's sound.
In all, the band puts on an entertaining performance with enough familiar material to get you dancing along with enough unusual material to keep things interesting. Look for Wired performing through Central PA in the near future.
~