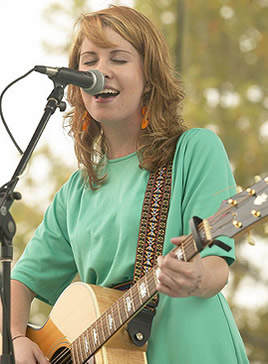 The sun has been bright and the skies have been blue, but for me it didn't feel quite like summer until Thursday, June 14th. You see, at the beginning of almost every summer in recent memory I have seen Pennsylvania's best kept secret, Darcie Miner, perform. So it was not until I saw her on Thursday with guitarist Jimmy Patton on the lawn in front of the Cocoa Beanery coffee shop in Hershey, PA that it really felt like summer had arrived.
This is my first summer in three years in which I am not romantically linked to anyone, and Miner's songs about heartbreak and broken relationships spoke to me with a fresh voice. Two summers ago when I was on a 'break' with my past girlfriend, I thought I completely understood the meanings behind Miner and Patton's work on their fantastic 2009 album Loneliness Anonymous. This is a mistake many people make with good music. We've all heard a song so much we believe we've mastered it, and then we hear it somewhere down the line and new layers of understanding reveal themselves. It is a testament to Miner's talent that her songs sound better every time I hear them. It also points to the problems with a lot of today's modern pop music; much of it has little to no depth, while bands such as Rush, Led Zeppelin, and Pink Floyd continue to be revisited, talked about, and discussed. OK, I'll hop off of my soap box and return to the review at hand.
This was the first time in nearly a year since Darcie Miner performed live and it did show at times, with some hesitations, false starts, and Darcie's own admittance to using lyric sheets to guide her along. There were also a few technical difficulties during the two-set performance, but none of this really affected my enjoyment of the show and Miner played off the problems with humorous comments and witty banter. She has a naturally good stage presence, which can easily cover up mistakes or instrument malfunctions.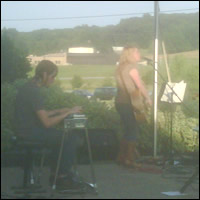 Since this performance did not include a full band one would naturally think some of the songs from Loneliness Anonymous would not sound quite as textured. On the contrary, one of my favorite songs from that album, "Rollerskating Song" sounded great despite the lack of synthesizers and other instruments that make up its bulk. All of the songs sounded pretty good bare bones with her on acoustic and Patton on electric or steel guitar. There were also a few fun covers such as "Breakdown" by Tom Petty in which Miner's soulful voice added a new layer to the classic. Before that, "Found Out About You" by the Gin Blossoms was a happy surprise that brought the audience back to the nineties with a steel guitar twist. A "Life Lion" helicopter disrupted the wonderful song "24", but it was still a great listen and just a minor bump in the overall great ride. Another of these bumps was quickly fixed thanks to Mr. Patton who saved the fantastic tune "Somerset" when he jumped from behind his steel guitar to fix some wires. The true gem of the evening was a song that I believe was called "Westward Bound", a track that did not make it onto Loneliness Anonymous but after one listen it was clear that the song could have fit perfectly well on the album.
Besides being a great multi-instrumentalist and performer, Jimmy Patton ("JP") is a top notch producer. This is immediately evident upon listening to Loneliness Anonymous, which has a sound as good as (or better than) any major label release. Since that album in 2009, Patton has built a brand new studio of his own design in Mount Joy, PA and new material by Patton and Miner is greatly anticipated.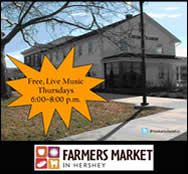 The show itself was put on by The Hershey Center for Applied Research, who have scheduled talented musical acts in conjunction with the weekly Farmer's Market in Hershey every Thursday night during the summer. These performances will raise awareness for the H.C.A.R. which is working to further study in the fields of life sciences, cancer, medical devices, green technology, and nanotechnology. As always seeing Miner and Patton play was a complete joy and put me in the mood for the upcoming summer.
~
Review of Loneliness Anonymous