On this version of Maggie's Corner, she offers perspectives on the 22nd Annual Briggs Farm Blues Festival.
Well, another Briggs Farm Blues Festival comes to an end for this year but will never be forgotten. It was once again a fantastic weekend with an amazing line up. The artists that were performed and were kind enough to speak with us have such amazing personalities in addition to their talents. Unfortunately I could not interview all of them but I did get to talk to a few that were willing to share some interesting information on themselves and what we could expect in the near future but we will get to that in another article. As I sit and write this article I thought it would be nice to write from a different angle today. This is about you – the audience of Briggs and those that could not attend. I am here to tell your story and what I saw you all experience at the show from my point of view. This is something different but I believe you are worth it.
While enjoying the music between the two stages at the festival, I could not help but notice the crowd and their joy when listening to the artists play on both the main stage and the back porch too. With a fantastic line up all four days, it all started with Briggstock on Thursday and ended with Slam Allen and Alexis P. Sutter on Sunday afternoon.
The crowd went wild when Bret Alexander and Friends rocked the house Thursday evening with their Woodstock-inspired. "Briggstock" set list. Vocalist Ellie Rose was a welcome surprise in her first appearance at Briggs. Now if you closed your eyes and listened to her you would think you heard a little bit of Joan Baez and Janis Joplin as she had that similar flair in her voice. The crowd was singing, dancing and even clapping along to the songs. This year Thursday evening was opened up to the public for the first time as it was only for the campers in the past which proved to be a great idea.
On Friday evening, the attendance was in full swing as the main stage was opened up for the line up and the weekend was just beginning. The crowd was preparing for a weekend of partying out in the field while relaxing and enjoying the music of the awesome artists that were performing and to make it all even better the weather was sunny and beautiful. I was able to take in the view from the field and at the back by the stage, what an awesome interaction between the audience and the performers. You could tell they were playing and singing just for the people, after all that is their goal to make us happy and filled with a peaceful feeling.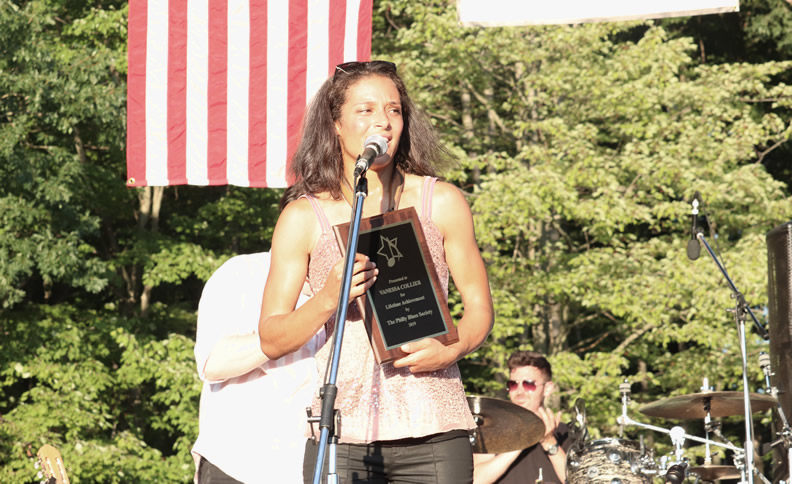 Saturday was an eventful evening packed with surprises and some new talents to Briggs. The audience wildly appreciated Vanessa Collier and her band, a repeated festival favorite who always gives the audience an exciting show. The people were again packed up by the stage, dancing and singing and, once the show was over, you could see how this crowd was impressed with her. At the finale of her set, Vanessa (at just 29 years old) was given a lifetime achievement award by the Philly Blues Society, she accepted it with humbleness and gratitude, and she thanked all of us as she went on to say that we were the reason she does what she does and she will live up to the award and continue to play for a very long time. The crowd clapped and cheered her on as she received it and made her statement.
On Saturday I was also able to interview a few people to see what their thoughts were on the festival including King Fish who was our Saturday night headliner and in his own words he was totally shocked and surprised to hear that he was in fact the headliner.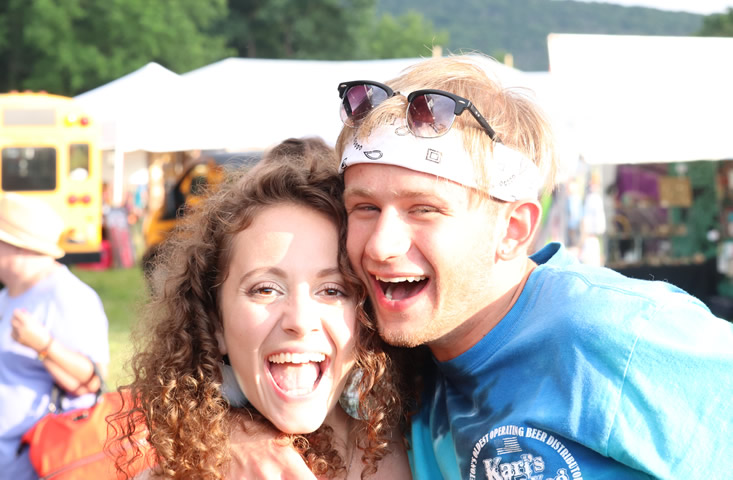 Festival attendees Joan Redline and John Lucash have been going to the festival for the past three years. When asked what brings them back they stated, "It's just an awesome place to spend a day or even a couple of days listening to some fantastic music".
Carissa Noel and her boyfriend Brad both enjoy the blues. This is Carissa's second year and Brads first year. They both love the relaxed and fun atmosphere and will continue to come.
Amy and Kyle from Hunlock Creek and Tunkhannock Pa told me that this is their first year at Briggs I asked what they liked most about Briggs and their response was, "The human experience, it's a unique blend of cultures and different age groups coming together enjoying the music that their grandparents or their parents also enjoy listening to."
We also interviewed three young men from the Drums area who told me they've been going to Briggs since they were 16 years old and the reason they keep coming back is for the vibe.
On Sunday, the gospel blues at Briggs had a nice crowd. This is something that hopefully will continue to grow as the years go on. Slam Allen started the day off with his ministry of songs, entertaining the crowd. Slam Allen also went through the audience singing and he even sat down in front of two younger girls to give some spiritual advice, something that awed the crowd. At the end of his show, he gave the recognition to God as he noted that if it weren't for The Lord his gift of music could not exist. Alexis P. Suter closed the day with her gift of song and as always proved to be a big hit.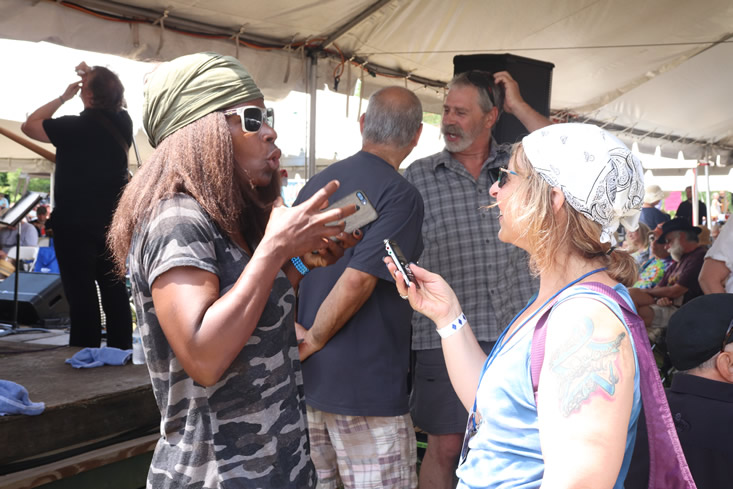 As I was wrapping up my day, I was able to get one more interview. I spoke to a beautiful young lady from Maryland, Colena Schneider, who was camping at Briggs for the weekend. When asked how she felt when attending Briggs her answer, "For me it brings a sense of peace."
So, as you can see, everyone has a different reason for attending Briggs Blues fest, however the common denominator is the friendly atmosphere and the excellent talent brought to us by the Briggs Family. When you enter Briggs you enter a different type of environment, you may not know anyone when you get there but you certainly will meet new people who have one thing in common, "the love of blues". Whether you are young or old this is one event in the whole year you do not want to miss. So, as I end this article, I just want to say, Hope to see you in July of 2020!
---
Briggs Farm online
~