For the latest version of Maggie's  Corner, she interviewed Richard and Alison Briggs as they prepare their property for the 22nd Annual Briggs Farm Blues Festival.
Well, it's the week after the 4th of July which means it is time for the Briggs Farm Blues Festival, our favorite outdoor festival in Pennsylvania. Started in 1998, this year marks the 22nd annual event which takes place July 11th through 14th on a private farm near Nescopeck, PA.
There are many different factors that make Briggs Farm such an enjoyable experience; from its authentic rural setting and friendly personnel to the freedom to bring your own food and drink or indulge in the delicious yet reasonably priced concessions. But of course, it is the music itself which makes this such a great festival. While this has been and remains a blues festival at its core, the lineup of talent has grown and diversified through the years. This year will feature a total of 21 live performances over this four day festival with featuring the headliners roots band Donna the Buffalo on Friday night and Delta blues man Christone "Kingfish" Ingram on Saturday night. Kicking off the festival on Thursday night will be "Briggstock", a special tribute concert which will celebrate this summer's 50th anniversary of the original Woodstock festival and will be performed by a group of local musicians led by the legendary Bret Alexander.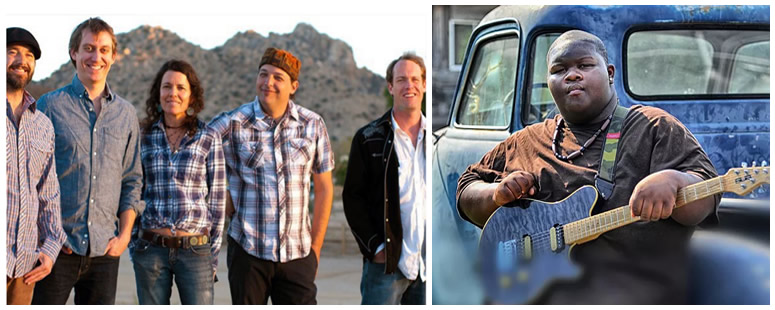 We interviewed Richard and Alison Briggs about this year's festival and Richard stated how the "Briggstock" Thursday opener is very special to him because the original 1969 festival is what started him thinking as a teenager about running his own festival someday and he kept that goal in mind for decades to come. Richard grew up on this working farm which was settled in 1760 by the Briggs family 10 generations back, and he later worked as an artist, filmmaker and television producer. The combination of these skills and his skill as farmer made him highly qualified to launch this annual festival, which has grown every year since its modest beginning in the late nineties. Along the way, the festival expanded from a two day event on Friday and Saturday to the addition of Gospel blues on Sunday and now with a special kickoff concert on Thursday.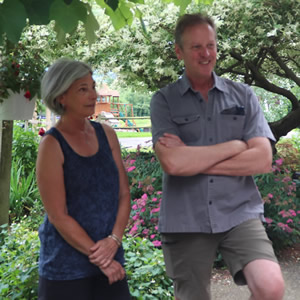 Alison explained the evolution of Thursday at Briggs originally as an early registration convenience to campers which became instantly popular. This led to having a small performance exclusively for the campers with a stage in the woods (camping area). With this year's "Briggstock", the Thursday music is now open to everyone with the performance taking place on the "back porch" stage and a limited amount of food vendors serving that night. Expansion is a regular occurrence for the Briggs' as they have gradually added space in anticipation of future growth of the festival. This year they've dedicated another 5 acres for camping and parking by switching corn growing areas to hay for a firmer, harder surface.
When we asked if there was a danger of the festival reaching a capacity in coming years, Richard assured us that their is still plenty of space to expand further. This venture is now a year-long occupation, which includes strong ties to the geographic heart of American blues, Northern Mississippi and Memphis where Richard is often a judge at the International Blues Challenge each winter. Dating back to the very first festival which featured the legendary Big Jack Johnson (who hosted the Briggs in his own home), the festival has brought in talent from that area, Some examples this year include "Kingfish" from Clarksdale, MS, Robert Kimbrough Sr from the Mississippi hill country and Cedric Burnside from Memphis. Richard and Alison have also been working to keep this festival going far into the future as their children and grandchildren have stepped up to take on increasing roles in running the event.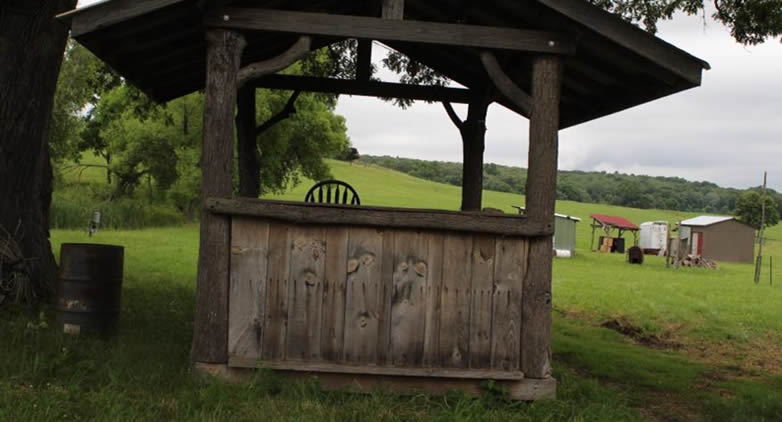 Briggs offers single-day, two-day and four-day ticket packages along with on-site camping, hay rides, crafts and authentic cuisine. Tickets can be purchased in advance at Briggs online store or in person at their new ticket office located at 88 Old Berwick Highway, Necopeck, PA.

---
2019 Lineup at Briggs Farm
Thursday July 11th
7:00 pm – 11:00 pm
"Briggstock" Celebration
featuring Bret Alexander & Friends
Friday, July 12th
Back Porch Stage
1:40 pm
Bobby Kyle & The Administers
3:30 pm
MiZ
5:20 pm
Robert Kimbrough Sr.
7:10 pm
Clarence Spady Band
9:00 pm
Lonnie Shields
Main Stage
4:15 pm
Annika Chambers
6:05 pm
James Armstrong
7:55 pm
Southern Avenue
9:45 pm
Donna the Buffalo
Saturday, July 13th
Back Porch Stage
1:15 pm
Scott Pemberton
3:00 pm
Nate Myers
4:50 pm
Mikey Junior
7:10 pm
King Solomon Hicks
8:30 pm
Heather Gillis
Main Stage
4:00 pm
Cedric Burnside
5:50 pm
Vanessa Collier
7:40 pm
Slam Allen
9:30 pm
Christone "Kingfish" Ingram
Sunday, July 14th
Sunday Gospel Blues on the Back Porch
11:00 am
Slam Allen
1:00 pm
Alexis P. Suter Ministers of Sound
---
Highlights from Recent Years at Briggs Farm
2018 Highlights featuring "Key to the Highway" by Teddy Young and the Aces


2017 Highlights featuring "Boom Boom" by Dustin Douglas and the Electric Gentlemen


2016 Highlights featuring "Love" by Dustin Douglas and the Electric Gentlemen


---
Briggs Farm online
Briggs Farm Concerts
88 Old Berwick Hwy
Nescopeck, PA 18635
570-379-3342
​briggsfarmblues@gmail.com
~