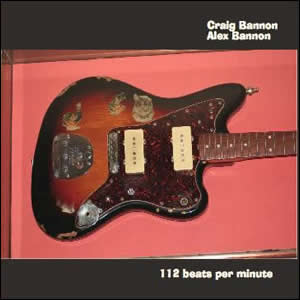 112 Beats Per Minute is a 5-song EP by father and son duo Craig and Alex Bannon. It contains four original compositions along with an original interpretation of Nirvana's classic tune "All Apologies". The album is a loose tribute to Kurt Cobain, of whom both Craig and Alex are big fans, and the title itself comes from a typical tempo of Nirvana songs.
The album follows Craig Bannon's Color Me, an EP released in 2006 which also contains 5 songs. There are, however, some differences between that EP and 112 Beats. First and foremost is the enlistment of Craig's teenage son, Alex, to play guitars and compose the initial song riffs. As Craig put it:
Alex would come up with the initial chord progressions and song parts on the guitar. We would record the guitar parts, building the parts into what would end up being the final flow of the song…….I would come up the melody and lyrics, and do the vocals…."
Another slight difference from Color Me is that 112 Beats explores more philosophical issues, starting with "The Flow" – a desperate search in futility for return "home". The song features Craig Kelley on bass and some guitar as well as some production assistance. "5:59 AM" is all about the horror of breaking out of a peaceful sleep to find that the inevitable work day will commence in less than one minute. A sarcastic ode to self-importance in those who obtain positions of power, "Me King" features singer Robin Kingston doing some fine background vocals.
The song "Atmosphere" explores folks who see and do things differently, sometimes reaching unbelievable heights, sometimes hitting tragic lows. It was written with two people in mind – Cobain as well as Craig's late uncle, who had an affinity for photographing clouds as he saw each one unique and special. Musically, Alex's guitar playing really shines on this one with some crisp riffs and overdubs.
Not usually a fan of cover songs, I must admit to being impressed by the fine version of "All Apologies" that caps off the album. It is an upbeat rendition that trades some of the melodrama of the original while maintaining its integrity. Ironically, it was the inclusion of this song that caused the artists the most headaches and ultimately delayed the release of 112 Beats per Minute due to some special provisions placed on the use of Cobain songs by his wife, Courtney Love.
The album features solid song structure sprinkled with bits of ear candy throughout and stellar sound quality, which is a tribute to Craig who independently produced, mixed, and mastered. All in all, 112 Beats Per Minute is a unique and entertaining listen and a tribute to the fine art of music production.
~
NOTE: Craig & Alex Bannon donated their song "Atmosphere" from 112 Beats per Minute to the Dollars for Diane compilation album
Buy 112 Beats per Minute