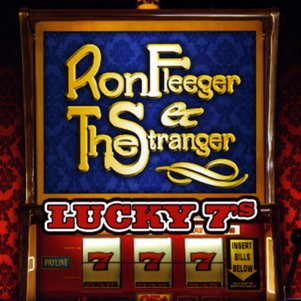 The trio Ron Fleeger & the Stranger from Williamsport have put together a collection of acoustic-driven songs with melodic hooks and precision technique on their EP called Lucky 7. Although, the central theme of post-breakup blues persists throughout, the album provides much diversity in tempo and tone to make it worth a definite listen or three.
Lucky 7 kicks off with the bar room anthem "In My Wake", a catchy sing-along (or chant-along) that describes crying in the beer but with good-natured reminiscence. The next song, "The Fisherman's Fantasy" comes complete with "spraying effects" and contains perhaps the most inventive lyrics on album;
…sliding closer to endless bliss, I will not be afraid of the abyss…"
The core of the album continues with the broken marriage theme. "Forever Obsession" is upbeat and intense while "Fool's Dream" is more happy-go-lucky and reminiscent of Nick Lowe's "Cruel to Be Kind" complete with multi-part vocals in the coda of the song. "Judgement Eyes" is a dynamic and angry, albeit appealing, jam that gives way to the ballad "When Love Went Out of Style" which, while interesting, is perhaps a bridge too far into the "lover's lament" field.
The production quality of Lucky 7 is adequate but uneven. While Fleeger's acoustic guitar is superb and well-represented in the mix, the bass guitar in nearly non-existent at times and the drums seem trapped in a narrow band near the center of the EQ spectrum. Nonetheless, this album is interesting and entertaining enough for me to want to hear more from Ron Fleeger & the Stranger in the future.
~
Ron Fleeger & the Stranger donated their song "Judgement Eyes" to the Dollars for Diane compilation album.
Buy Lucky 7's