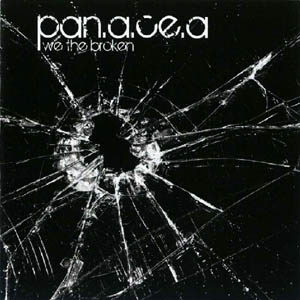 It's very cool how some things go together. Good food, good wine, a good cigar and good music. The music is the focus here, specifically the new Pan.a.ce.a release, We the Broken. This is a very strong CD. Melody, hooks and great production are all present here and all the songs are well written and structured with a rich musical energy.
The first track, "Too Little Too Late", hooked me and reeled me in. This track was co-produced by Breaking Benjamin axeman Aaron Fink and once it draws you in it holds on to you throughout. The music has a modern flare mixed with a vintage vibe, such as the breakdown before the ending in "Everything is Different", a smattering of the 70′s that works. There are surprises like a reggae breakdown in "We the Broken" and mellow interludes that lend themselves beautifully to the crunch and bite that waits around the next chorus. The songwriting and musicianship are excellent and the chording and phrasing complement the strong and unique vocals. Yes, I said unique.
The songs of note are: "Too Little Too Late", "Stay", "Hold On", "Dreaming in the Real", "Children of Tomorrow", and my favorite, "This Life". The production is also a key factor in the scope of how the songs translate to disc. This is production that is crisp, full and breathes. This also gives it strength. I hope the mic placements and mixing desk settings have been noted, because the emotion and energy have been captured perfectly.
It comes down to this – the CD deserves to be listened to. It has the elements to be a staple in your music collection and let's not forget a potential top radio fave ! If you get this CD, you will not regret it. Not like regretting the headache after a night of indulging in good food, wine and cigars. With this CD you get the buzz without the pain.
I am impressed by the power of this CD. It does not have a weak point. Pan.a.ce.a has done it. It's an excellent body of work that represents the talent that has been growing and showing itself to us for some time.
From creation to completion…a great job to all involved.
Peace, Philo
~
Pan.a.ce.a donated their song "Stay" to the Dollars for Diane compilation album.