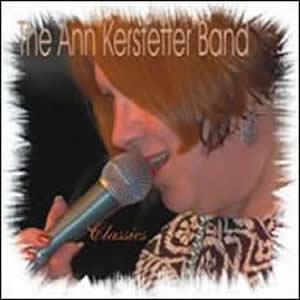 Initially, I was a bit hesitant to review an album with no original tunes on it, since I rarely enjoy covers more than the originals. But being that I was told this was a "blues" cover album, I went ahead due to my shallow knowledge of many blues classics anyway. Upon listening to Classics, I was pleasantly surprised on many levels. First of all, The Ann Kerstetter Band is much more versatile than to simply be labeled a "blues" band, as they cover a wide range of genres and sub-genres that extend from classic jazz to modern country with a strong core of blues in between. They also span a large chunk of time, as each of the past eight decades (except the 1980s) is represented in the compositions on Classics origins.
Another pleasant surprise is how fantastically polished are the performances on Classics. Kerstetter brought in an impressive group of true musicians to complement her fine voice with its requisite burr. Piano virtuoso Greg Burgess is out front on many of the songs traversing style and tempo while bassist Andy Seal uses the classic stand-up instrument to perfection. Add to this, true professionals Steve Mitchell on drums and Sean Farley on guitars and you've got a solid production from Green Valley Studio.
Add to this the back story, and a fantastic one at that, where we witness the re-ignition of a fire that will not die. Ann Kerstetter started performing four decades ago at age 16 and continued to do so into the 1980s. She then spent a two full decades on hiatus from any public performance until just a few years ago. Sometimes the Phoenix does rise.
The songs themselves are all well done with some exceptional standouts – William Bell's "You Don't Miss the Water", Big Jay McNeeley's "Something On Your Mind", and The Beatles' "Don't Let Me Down", which is particularly interesting with its arrangement of 12-string acoustic and bass by Andy Seal and special guest Blaine Renn, who supplies the acoustic lead. A note of irony on this latter song is the fact that Burgess does not play on a cover of a song that so prominently featured Billy Preston on the electric piano but nevertheless, it certainly sounds good with this acoustic arrangement.
To point out the rare weak points of the album itself, I would start with the sequence of the songs, which hides some of the finer tunes while kicking-off with the boiler-plate "Boogie Woogie Blues". There is also an under use of high-end presence in the drum mix, which gives them a bit too much of an "eighties" sound that could better compliment the more authentic-sounding instruments. Kerstetter herself feels that she "held back on" Billie Holiday's "God Bless This Child", but it is hard to find much wrong with the fine version that caps off the Classics album.
All in all, this album grows on you in its simplicity and exploration of American music from a different time and place. I'm glad that I gave Classics a serious listen (several, actually) and I look forward to the second album by The Ann Kerstetter Band, Duke St. Diary, which contain mostly original material and is due out later this year.
Related Article: Ann Kerstettler – The Hidden Gem of Central Pennsylvania