NOTE: This article was originally published on the DAMES of Pa website.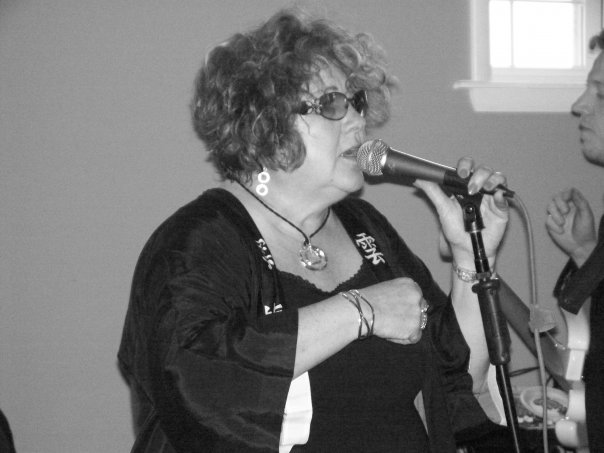 Ann Kerstetter is an artist that is finally getting her due. For some musicians finding a modicum of success is not easy. For Ann, lightning has struck twice and she's captured it in a bottle. To say that Ann Kerstetter has resurfaced back onto the music scene here in the Susquehanna Valley would be an understatement. She started singing when she was 16 years old with the group Crosstown Bus, although her family members will tell you that she has been performing since she was about 4 yrs old.
Since returning to the music scene from her self imposed hiatus to time out and start a family, Ann has hopped back onto the musical merry-go-round and has been raking in the brass rings. Now that she is back, she is savoring the sweet success of her return.
The years away from the spotlight had not diminished her desire and passion to perform. The growing demand for her live performances is reflected in her schedule. She is gracing the stages from Pennsylvania all the way down to the International Blues Challenge in Memphis, Tennessee where this past February she and her talented band mates competed as semi-finalists and had the great privilege of performing on the stage at BB King's with Ms. Joyce Hernderson "The Diva of Beale St." and her band the Blues Machine.
Kerstetter's album Classics has been featured on KZUM 89.3 Lincoln, NE along with an on-air interview, and has broken the top 20 on Midnight Blues Special Radio. Classics has received great reviews from:
BLUES REVUE, June/July 2009 – Tom Hyslop:
An uptown beat pulses through Classics, a wonderfully produced self release from Pennsylvania's Ann Kerstetter Band that covers deep soul (William Bell's Stax classic "You don't Miss Your Water"), the Beatles ("Don't Let Me Down"), and roadhouse R&B (Delbert McClinton's "Every time I Roll The Die") but favors jumping blues and boogie ("Louella," "Boogie Woogie Blues") and elegant ballads ("Dangerous Mood," "God Bless the Child"). Kerstetter is a fabulous singer with personality, wide emotional range, and a welcome lack of affectation."
Doc's Juke Joint, Jazz901.org Rochester, NY:
I recently found a great new blues act hiding in Northumberland, PA. Ann Kerstetter and her band bring new life to some well known and forgotten blues hits on her latest CD -CLASSICS. Whether its a boogie number or a slow one, Ann and her band deliver."
Al Lundy, Highway Blues /KZUM 89.3 Lincoln, NE:
Ann Kerstetter's vocals are powerful, and filled with emotion. The musicians surrounding her are tight and work very well together. Here is a group of artists whose talents seem to have no boundaries; The Ann Kerstetter Band delivers a refreshing mix of jazz, blues, and rock that is guaranteed to satisfy."
Then, theres our own album review of Classics.
She has received numerous nods from Wayne Laepple of The Daily Item and "Diamond" Dave Thompson of the Williamsport Sun-Gazette. To classify Ann as just a blues singer would be mis-labeling her. I truly feel that she can tackle many genres from different eras and present them to the discerning listener of today. For some music fans, Ann is not a soft sell, but she is winning the hearts and loyalty of music lovers young and old throughout the region.
A little insight into the Hidden Gem, interviewed by DAMES' Brenda K. Brosius…
BKB: What type of music did you grow up listening to?
AK: Every thing lots of 60s' but lots of old music from 30 and 40′s too. I really used to hate my older brother's 50's stuff and I was never into Elvis but I loved Motown, all the girl groups but it was the BEATLES that really were my hero's.
BKB: Who influenced you the most?
AK: That's hard to say because I really loved Grace Slick when I started to sing with the "Crosstown Bus" but everyone always said I sounded more like Janis Joplin. I think when I was in my teens through 30 yrs, old I used to try to do whatever was popular and cover the vocalist of a song I covered and that was ok… because there were a lot of great songs and vocalist from the 60-80, but now I just do what seems natural to me .I never thought I would be singing professionally again so now I will try things with my voice that I would not have done when I was young. I think it's because of my age, you stop trying to please everyone else. I love singing Jazz, and standards and country too so when I think of Billie Holiday, Etta James I think…"well they both sang Jazz, Blues or whatever they recorded or performed it was still them". That's probably what influences me the most and it is what I like to do.
BKB: When you began performing?
AK: When I was 16 with the Crosstown Bus. But my family members say I have been performing since I was about 4.
BKB: What year did you step out of the spotlight & why?
AK: 1982. I was 30 and the had been singing 15 years, The Bus was popular and we had a great following but we were doing a gig in October and two of the other guys who had just got married and wanted to start families said that they were going to leave after our New Years Eve gig – and I just decided to say me too – I still loved singing but I was ready to think about being a Mom.
BKB: When and why you decided to get back into it?
AK: Well I always kind of missed singing, especially when I would hear songs that I had sung with the Bus. I had a couple of opportunities to sing a song or two with bands when they saw I was in the crowd, but about 5 years ago my fellow Crosstown Bus alum Blaine Renn called me and asked if I wanted to do an acoustic gig with him. And that was when things started happening. But it was after going to the Billtown Blues Festival that I really wanted to get a bit more serious about it and got together with Andy Seal, Steve Mitchell, Greg Burgess and Sean Farley.
BKB: What do you consider to be the biggest change in the past 20 years that has been a positive for musicians and performers from our area?
AK: Clearly the Internet. I was so far removed from the music scene while raising my son but this area continued to turn out great music. Because you can produce and record your own music so inexpensively and you can get it out there, you really don't need a record company. I mean look at Nate Myers, or Earl Pickens, The Badlees or Breaking Benjamin look what they have achieved, it's outstanding.
BKB: What do you consider to be the worst thing that has happened to the music scene in this area over the past 20 years?
AK: Not enough venues to perform and money? Clubs will settle for DJs and forget about Live music – don't get me wrong I like DJs too- but obviously a DJ can work for a lot less money. So for a pro musician it can be hard to make the $ necessary to pay the bills.
BKB: You perform with a phenomenal group of people in various forms and settings. If you had to pick out for each person, one thing about them and their talent that you admire. What would you tell me?
AK: That is so hard but they have all done so much to help me to grow as a performer Steve Mitchell – The man with the Grammy. He made me believe I was more than just a CHICK SINGER. He gave me back my musical self esteem and made me understand that my voice is my instrument. And that I had to learn not to feel that I was anything less than an artist myself. He also taught me I had to practice each day in someway and I had to grow and stretch myself.
Andy Seal- He has taught me so much. I don't think I could have done much without Andy. He has the business knowledge, the road experience, production skills in the studio and he is so calm and patient. Which were never adjectives used to describe me. I had to learn to act like a professional and not just a weekend warrior and Andy really has taught me this. He has also been a buffer for me when I was uncertain of correct procedures with other musicians and venues. I mean I had always been in a band that acted like it was a family. Maybe dysfunctional, but still a family. With the Memphis Band I had to learn I was working with four individual musicians that also had to express themselves in other projects that perhaps I would not take part.
Blaine Renn – For getting me back to the music and really helping me find my voice again. I really like singing with Blaine, It's too bad we never realized how well we sang together back in the Bus days. We really had some fun doing the Cronies and then the Trio. Blaine is a great guy!
Greg Burgess – Brother Burgess. I just love his piano work and songs. He is unique individual with so much talent.
Sean Farley – (guitar) The young Turk, he is a natural on stage he knows what he's doin'. What a trooper, I will never forget his determination to be back in form in a months time to perform in Memphis after having surgery on his right hand for a freak accident on New Years Eve.
Alex Callenberger – (guitar) My dark knight. He is an artist.. Alex is intense and his sound is what he wants it to be, he will command your attention. So Tasty.
Jeremy Hummel – (drums) platinum, a gold and so together…..must I say more. He's Great!
Charlie Moore – (harmonica) Charlie is my playmate. He is an entertainer and just so much fun to have with us on stage ….plus he can blow that harp.
BKB: What's the difference this time around with recording your second CD?
AK: Production. The Classics was just started as a demo. The songs are all covers that I wanted to perform. It really only featured the Memphis Band. Blaine Renn added vocals and also a guitar solo on "Don't Let Me Down". We did 6 songs in one day but it sounded so good that we thought we might just have something to sell. So we went in and added 5 more songs and got it out. It was done in 3 sessions and it was very simple and clean. Duke St. Diary features 8 original songs and only two covers, This CD is personal. I helped write the songs, which still just amazes me because I don't plan an instrument nor write music. Andy has been an incredible help. Greg Burgess's songs are so natural for me to sing too.
BKB: Tentative release date?
AK: Aug 23rd. With a CD release party on the Hiawatha in Williamsport, Pa on the 25th.
BKB: Highlight for this year?
AK: I have had too many that's why it's so cool – I mean, playin' The Billtown Festival, Then going to the IBC in Memphis and getting the chance to sing at BB.King's, singing with Eg KIGHT, HAVING A GREAT REVIEW IN BLUES REVUE – they are all once in a lifetime experiences for this 56 year old ex. Spanish teacher.
BKB: Your plans for the next year?
AK: Just to take it as it comes.
BKB: What advice would you give to some one who may have put their passion for singing on the back burner and is now considering jumping back into the spotlight?
AK: Do it -if you can, doing what you love is what makes it easy to get up each day with a smile.
BKB: Who are you thankful for in your life and why?
AK: My Aunt Nancy who raised me and taught me to be happy and optimistic and my husband, Chris for being a man that has always encouraged me to do what I had to do even when It wasn't always clear to me.
BKB: Last Question, do you still sing while you are driving?
AK: Always…in stores, I can't control it – everywhere – if it's playin' I'm singin.
Interviewer's Note: During the late mid to late 70's as I was growing up and attending the local middle school where Ann taught Spanish, I would often see her driving into work. I swear she was always singing.
Here's what some of the local Music Community is saying about Ann Kerstetter –
Ed Rhoades:
At the jam session at the Billtown Blues Challenge in Williamsport, I had a chance to play with Chris Bovard and Kimbo (of the Blind Chitlin Kahunas) while and Ann invited Kim to sing duets with her on songs like 'Angel From Montomery' and 'Kansas City'. What a great time! It's an honor just to be onstage with these amazingly talented performers. Ann was so gracious. Her performance was powerful and dynamic. I've seen a lot of famous blues singers and Ann can hold her own with the best of them."
Kim Rhoades:
It was nice that last year's winner of the Billtown Blues Challenge shared the stage. She encouraged me to sing a song while she backed me up when a lot of performers of her stature would have just dominated the stage."
Karyn Albano (co-creator of DAMES of PA):
I had never heard of her before you handed her CD to Ric – and now I think she is a PA treasure more people should appreciate."
~
The Ann Kerstetter Band released the album The Duke Street Diaries on August 23, 2009.
Ann Kerstetter website