NOTE: This article was originally published on the DAMES of Pa website.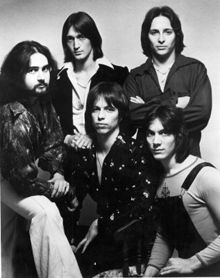 You may have known about this band for the last 25 years. Then again, you may have never heard of them before. Either way, if you are in any way a fan of songs with great hooks and powerful melodies in a vein reminiscent of the progressive rock/pop songs in the 1980s then you need to get yourself to a Hybrid Ice show.
The history of the band spans well over a few decades. There have been break-ups, re-groupings, reunions and other events that have brought about the coming and going of Hybrid Ice. They spent many years performing up and down the east coast playing a mix of their original songs as well as amazing covers of songs by Boston, Styx, Genesis and Foreigner.
Each member of the band had the ability to sing lead which allowed for some impressive vocal harmonies and allowed each member some spotlight time throughout each show. In 1982 they released their first album simply titled Hybrid Ice which featured their radio it "Magdelene" as well as other live show favorites like "Do You Believe in Rock and Roll" and "On We Go". "Magdelene" was later covered by Boston on their fourth album Walk On. Then in 1988 they released another album titled No Rules. Years of performing had refined their songwriting even further which is clearly evident in many of the songs including "Never Coming Back" and "Scars On My Heart".
On June 18, 2009 Hybrid Ice released Mind's Eye, a CD that contains eight new original songs performed by most of the members of the "classic" line-up. While the new CD strongly showcases the elements that longtime fans will clearly recognize as the Hybrid Ice sound, there are a few tracks that show the evolution of each member's writing style in the 21 years since their last album. "Bring the Gold" has a deep, bluesy side with their signature harmonies driving it into more familiar territory. "Stop Searching" also has a slightly more modern feel to it yet sonically it still fits with the rest of the album.
June 18 was also the date of the Mechanicsburg Jubilee Day in which Hybrid Ice performed all of the material from Mind's Eye for the first time live. Chris Alberger, Rusty Foulke, Robert Scott Richardson, and Rick Klinger were joined onstage by Jason Shaffer from the Giants of Despair and formerly of Grantham Road who filled in on bass. Not only was this a CD release show, it also marked the bands first "all original" show. Playing all of the songs from Mind's Eye as well as favorites from earlier albums like "Scars on My Heart" and "Looking Glass" the band sounded as good as ever.
If you haven't seen "The Ice" in a while or if you've never seen them and are into great songs played by very talented musicians then you owe it to yourself to check them out. They will be playing a handful of dates from now until at least New Years Eve in Central PA.
~