NOTE: This article was originally published on the DAMES of Pa website.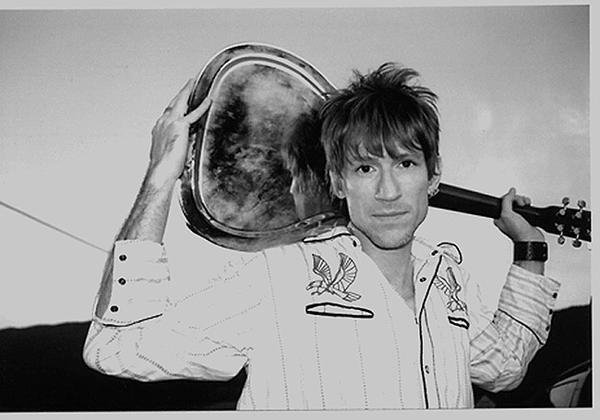 Rhyne McCormick is very easy to listen to, but calling his music "Easy Listening" wouldn't be right. His mix of pop melodies and thoughtful inspirational lyrics goes down like a glass of cold lemonade on a hot day, sweet but with just the right amount of refreshing crispness.
We caught up with Rhyne during one of his monthly performances at Granfalloons, a cozy bar/restaurant located in a historic building at 41 E Princess Street in downtown York. The charm of the building and the accommodating staff made us feel like regulars even though this was our first time there – a genuine neighborhood bar atmosphere. The bar is on the first level and a deck on the second level. The bands perform in a corner of the bar area making for an intimate performance.
On this night, Rhyne is performing an acoustic set with Seth Ryan on percussion and guitarist Mike Morrison. Before the show, Rhyne explained they were planning to do mostly covers during their set with a few originals mixed in, but as the night went on the crowd of regulars did start yelling for originals. Rhyne's covers of Johnny Cash, Elvis Presley, Oasis and others revved up the crowd with several young ladies dancing early on during the first set. The folks gathered around the bar were enjoying the music as some were singing along and most were actually paying attention to the band.
A couple of weeks earlier, Rhyne played to a sold out crowd with The Mark Derose Band at The Capital Theatre in York. Rhyne said that he may release a compilation of these live recordings on CD. You can listen to a preview of some of the tracks on Rhyne's website.
Rhyne grew up surrounded by music at home, in church and even summer camp. Though he admits to asking for his first guitar at age four, he didn't initially choose music as his career. Instead, after high school, Rhyne headed to Messiah College in Mechanicsburg, PA intending to become a youth pastor. His passion for music would have been a part of that. However, Rhyne says, "After a few semesters, I became pretty frustrated with organized religion. So, I quit school and joined the Air Force."
He spent the next nine years as a computer programmer for the Air Force stationed in places like Omaha, Nebraska and Virginia Beach, Virginia. Omaha is where Rhyne started writing a lot of music and playing in bars and coffee shops. He still plays the occasional gig in Virginia Beach. After leaving the service, Rhyne decided he could no longer spend his days enclosed in an office cubicle and made music his full time pursuit.
Rhyne chose to perform, write and take lessons to hone his skills as a musician and songwriter. He has recorded three CD's. The first two are out of print, but digital copies of "Soul Dust" are available on iTunes and CD Baby. (Though I did spot a copy of "Spin the Bottle" – the first CD- in an on-line auction selling for around forty dollars.) So, for the moment, the best way to hear Rhyne is LIVE at a local venue near you!
Rhyne's soulful vocals and heartfelt delivery energize his performances drawing in his audience with catchy hooks and instrumental harmonies that stick in your head long after the song is over. Like many singer/songwriters, he draws from personal experiences when writing. Some songs like "Soul Dust" seem autobiographical with lyrics like, "If I don't do just what I want, I won't be who I am." and "You may not know who I am, but just listen to where I've been." In "Through These Eyes" he sings, "I've seen everything through these eyes… there's no disguising me".
"Deeper" is a song which Rhyne quips was inspired by seasonal affective disorder- or that down in the dumps feeling you get in the depths of winter from lack of sunshine. The song starts by describing the malaise, "the funk in your head keeps you in bed." But continues on to encourage the listener with, "You don't have to go real far to find your inspiration…dig a little deeper deep down in your soul…" And a "miracle will come from deep down inside."
Rhyne says "Train Song", about a cousin he lost to a heroin overdose, is a favorite because "it has touched so many people. To me that's what songwriting is all about, telling a story and touching someone with it." Choices are a theme in this song and how once a choice is made, it's sometimes tough to change directions. "Trains are full of people going places they don't want to be. When that train leaves the station you can not stop it all the time."
Rhyne's guitar is covered with stickers much like a well-traveled suitcase. It seems fitting since he plays an average of four to five shows weekly throughout Central PA. His busy gig schedule should make it easier to get out there and catch a happy hour solo show or a show with one of the many fine local musicians Rhyne regularly teams up with like Dave San Soucie, Jon Skiff, Mike Morrison, Randy Servello, Aaron Bossinger, Jim Gross and Seth Ryan. Go on! Shake that dust off your soul!
NOTE:
Rhyne McCormick donated his song "Deeper" to the Dollars for Diane Compilation CD.
Rhyne's album, Live At the Capitol Theatre, was released in 2010
Rhyne McCormick website
~