NOTE: This article was originally published on the DAMES of Pa website.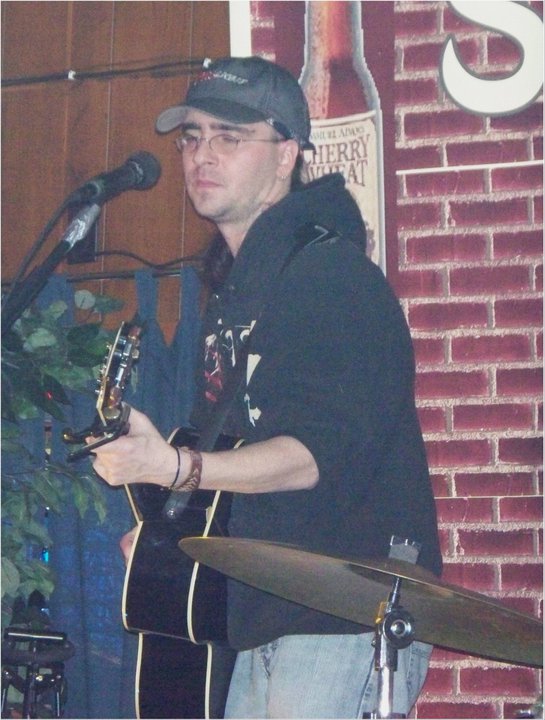 A wiry figure with long wispy hair leans into the microphone, eyes closed, strumming an acoustic guitar, gritty vocals with just a hint of a country boy twang singing his version of the old Barry McGuire song, "Eve of Destruction." Shawn Z is performing at The Mifflinburg Hotel/The Scarlet D Tavern as "Gypsy – Unplugged with drummer/percussionist Ron Simasek. Ron is keeping the beat, perched behind a set of tall conga drums. He's inventively using his hands, brushes and drumsticks to produce a full, percussive sound to perfectly complement Shawn's acoustic guitar.
The duo performs covers ranging from John Lennon, Warren Zevon and Buffalo Springfield to the Violent Femmes and Nirvana along with original songs from Shawn Z's collection. Though tonight is a duo, Gypsy might also include guitarist/vocalist Bret Alexander as well as bassists Paul Smith or Firp Edmunds. The band's lineup, set list and lyrics, are all flexible and prone to improvisation. When venturing out to a Gypsy show, you just never know what you may experience! What you can count on is Shawn Z's unique view of life and relaxed but quick witted humor making every show a great time.
An experienced performer, Shawn has opened for Willie Nelson, John Fogarty and Toby Keith and is well known to viewers of WNEP Channel 16 in Wilkes Barre. Shawn and fellow Gypsy, Ron have been recurrent guests of weatherman Joe Snedeker doing acoustic performances during the morning forecast. Ron is also a renowned session drummer and is best known for being the drummer for The Badlees and The Cellarbirds.
Shawn says being a musician is in his blood, "My dad was a touring musician, my mom sings and had music playing nonstop through my childhood. I'm still going through therapy." Shawn credits his dad, who passed away in 2007, as an inspiration saying that they had musical magic between them. While he admits he's also been influenced by Steve Earle, Shawn says there's no truth to the rumor that he is his long lost son, though he is flattered by the comparison. Aside from 15 years spent in radio, writing and performing music has been Shawn Z's life's work though he adds that he did take a typing class – just in case this music thing doesn't work out.
Shawn Z has released two albums of original material since 2004. Both Wishful Drinkin' (2004) and Saint Jude Avenue (2008) were recorded at Saturation Acres with producer (and fellow gypsy) Bret Alexander. Wishful Drinkin' has received national airplay on Sirius XM Radio and had a respectable showing on the Americana charts reaching number eleven. Songs from Saint Jude Avenue can be heard and are available for purchase through Shawn Z's MySpace page.
The themes of Shawn's songs range from Arlo Guthrie like storytelling to reflections on life with a wandering soul in search of redemption as a recurring theme. The music often has a familiar feel reminiscent of Tom Petty, Johnny Cash, Steve Earle and Bob Dylan. The lyrics, however, are distinctively Shawn Z. He says, "I've been cursed with writing straight from my heart." His stories are based on his experiences and people he has known. "Sadly enough, I don't write fiction. All songs I write are personal….some are sad, some are funny … some are just plain odd, but that's me."
Philosophical nuggets like the introspective "I'm halfway between the man that I was and the man that I'd like to be," and , "Life goes on…even if you don't" make you think. While songs like, "Hey Judge Judy" and "Talkin' Cover Band Blues" make you smile with lines like, "The girlfriend left but I still got her kid, maybe I'll put him on eBay and get the highest bid…well what would you do? Times is tough!" Shawn shows us his more serious side with tracks like "Uncle Willie." Uncle Willie is a war veteran who comes home but is still fighting the battle in his mind years later. The strong steady beat with a wild guitar marches along like the character, "Watch out, here comes Uncle Willie, fightin' for the USA…"
The song, "Better Than Me," about a man living on the street reminds us that things aren't always as they appear. While most of us would think a homeless guy was down on his luck, he says, "I don't mind livin' out on the street, at least I'm a livin' free and there ain't nobody got it better than me." A fan favorite is "Half Baked". With a rollicking country vibe and lyrics like, "She's hotter than a pig at a pork roast," and, "she likes to drink her beer from a funnel and then go grocery shopping in the nude." it captures attention and gets the party going!
Shawn Z and Gypsy have just started wandering out of the Northeastern PA area into Central PA and have received a warm reception from audiences in the Danville and Mifflinburg areas where they've played to sellout crowds in clubs like the Pub II. Shawn is actively looking for help booking more stops for this Gypsy train in Central PA. Check the schedules posted on the Gypsy MySpace page often and tell your favorite club that you want the Gypsies to stop in your town!
Thanks to both Shawn Z and Ron Simasek for spending time with me (Karyn from Dames of Pa) at the Scarlet D Tavern – where else can you catch a great show AND see a horse and buggy trot down the main street?
Shawn Z donated his song "One End of the Candle" to the Dollars for Diane compilation album.
~