NOTE: This article was originally published on the DAMES of Pa website.
One of the wonderful things about living in the age of the computer and Internet technology is the fact that we have a large amount of information literally at the touch of our finger tips. You can "search the world" with out leaving the comfort of your home. Just press a key and you can search for new music and new musicians to listen to. Sometimes what you find ends up being right in your own back yard.
This is what happened one night when I was trolling the MySpace pages looking for new bands and music to check out. I stumbled upon the MySpace page for Scott Erickson of Danville, PA. I took the time to listen to the music he had put up on his player and was hooked by his original tunes; that was a year ago. I have since had the chance to hear his music and then to actually go out to hear him perform live on several occasions when he was playing locally.
I was curious as to what this full time musician did to occupy his time when he was not out performing as a solo act. After a little Q & A with Scott, I found out that he is currently involved in the Upper Bucks Alliance for Creative Expression a non-profit organization based out of Quakertown, PA. In the fall of 2008 he was there in the role of Assistant Musical Director for the Fall Signature Concert. This Spring he was chosen to be the Musical Director for the show. The Concert (Rock n' Roll from AC to ZZ) is scheduled to be held on May 2, 2009 at the Strayer Middle School in Quakertown, PA. Scott said,
Working with these kids is such a wonderful experience for me because it gives me a chance to try and give back some of the encouragement and support that people have given me over the years. I never really thought of myself as the 'Role-Model/Mentor' type. I was surprised at how easily I slipped into it and also how comfortable it can be. I think the show in May is going to be spectacular and I'm looking forward to every rehearsal. These kids are so talented that they make my job as easy as it possibly could be. On top of that, their parents are fantastic. Thankfully, we don't have any of the stereotypical 'Stage Mothers' involved, and that makes thing run pretty smoothly as well. My only regret about being involved with the Alliance is that we never had anything like this when I was growing up. I look forward to working with these kids and with the Alliance for a long time to come…"
For more info, check out the Upper Buck Alliance for Creative Expression website.
Some more things that I found out about Scott over the past year is that he has an endorsement deal from Kona Guitars. Through the suggestion of his friend Greg Howe on how to attract some attention in the hopes of getting some kind of "artist deal";
I took it upon myself to make a banner for my Myspace page listing ALL the companies whose gear I was predominantly using for my live shows. After I added the banners, I started searching Myspace for all those companies to see if they had profiles. As luck would have it, Kona Guitars had a page. I sent them a friend request and they accepted. I sent them a message that said, 'Thanks very much for the friend request. I purchased my Kona about a year ago. Since then I've used it 3-5 nights a week, every week, and it's NEVER let me down. If there's ever anything I can do to help advertise and promote you guys, feel free to ask.' Less than six hours later, a gentleman named Marcus Lawyer sent me a reply that said, 'Here are my phone number and my extension. Give me a call and let's chat.' I called a few days later and after about 10 minutes, Marcus asked me flat out, 'Would you like an endorsement deal?' I was floored and took all of about 15 seconds to answer, "HELL YES!!!' That was the start of my relationship with Kona Guitars. I've just signed with them for a second year. Mark Jabben, the new Artist Relations/Product Specialist Representative, has been simply amazing!"
There is even a "Scott Erickson Signature Model" electric guitar built completely from the ground up with specs that Scott came up with. He said that he's so fortunate and grateful to have the people at Kona in his corner helping to make his gigs even better by helping to provide him with great instruments! Even though they are a small company without the name recognition of some other companies, he states, "This is one company where the inexpensive price tag does NOT equal a cheap product. I would say that even if I was not one of their Artist Endorsees.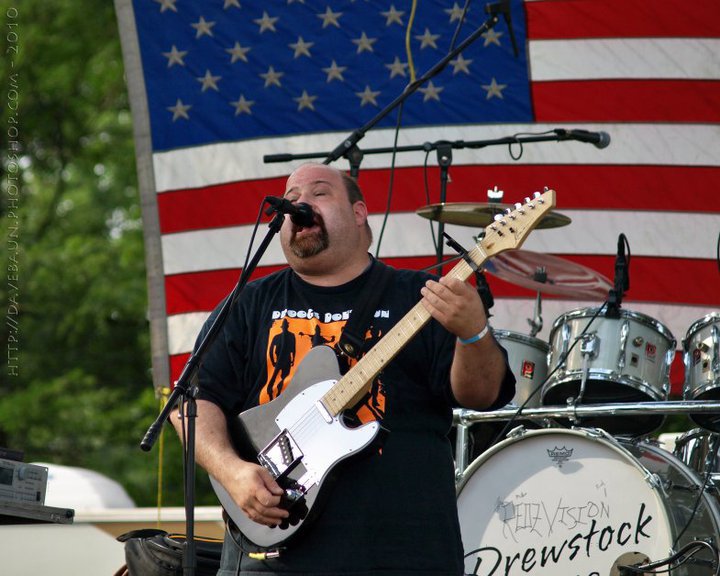 After all, I bought my first Kona almost a year before I ever contacted them. I now use Kona Guitars
exclusively at all my gigs." Mark Jabben from Kona told me that "Scott has some really good ideas about what he wants in a guitar." When ideas sound good and we think that other guitar players would also appreciate them then we try to include those ideas on the guitar. Scott's ideas are good and somewhat unique, that makes for a great signature model. So as Scott gets more recognition by getting his name out there more, we are thinking about producing his model. Maybe a limited number special "Scott Erickson" signature model. Then see how they go over and then maybe put the guitar in full, unlimited number production.
"Scott is a very talented guitar player and singer. His ability to cover songs and entertain audiences is awesome. We've heard a lot of the songs he covers all of our lives; and to hear someone "nail" the songs and even make them better is nice to hear. It's rare to find someone that takes songs, covers them and adds to them. Most of the time when a musician covers a tune, it just won't be the same as when hearing it from the original artist, when Scott covers a tune, its almost brand new!! He adds his thing to it and they just come out great! It's very enjoyable listening and seeing Scott perform. He also has some amazing tunes of his own." Mark W. Jabben, head of guitars/Artist Relations at Kona Guitars, Trinity River Guitars, Main Street Guitars, and GP Percussion. Scott is proud to be part of Kona family and his role in being their Pied Piper is a happy one. The mission at Kona is to be an asset to today's and tomorrows musician, to get a Kona in the hands of everyone. Please check out: Kona Guitars
Who has inspired Scott to become a musician? His father who was a Disc Jockey back in the days when radio really meant something to music. Not big-business. His specialty was oldies and because of his knowledge & love of music he grew up listening to what he likes to call the "Holy Trinity" of Rock n' Roll: Elvis Presley, Little Richard, and Fats Domino. He was also listening to Top 40 radio. He says "I know you may cringe when you read this list, but these were the artists I listened to during my childhood and early teens. They all had a huge impact on me. Duran Duran, Air Supply, Barry Manilow (his mom was and still is a big fan of his) The Cars, Men At Work, The (disco-era) Bee Gees, Chicago, Billy Joel, Kiss, etc. are who I was listening to on my own. Oddly enough, I didn't start listening to the music I love the most now until my mid-to-late teenage years. It wasn't until 1985 or 1986 that I discovered The Beatles. In fact, the very first CD I ever bought wasn't even a Beatles album. It was Then and Now… The Best of The Monkees (yes, I still have it!). Once I discovered The Beatles, it was all over for me. Somehow, every note of every song of theirs made it clear to me that I wanted to play music. Of course, I wanted to meet women too, and being a guitar player seemed to be a great way to do that (laughs). That plan didn't quite work out, but I started getting paid to play guitar, and that was a pretty decent substitute for the women.
Reflecting back on the highlights for the year of 2008 he noted that the beginning of his relationship with Kona Guitars, the opportunity to play/jam with Pat DiNizio and Jim Babjak from The Smithereens (some of Scott's current mentors). Jim Bajak's description of Scott is" Passionate! You can tell that he really loves music. Not only does he learn every nuance of a song but gets into the details of the artists who recorded it and knows the history of how, when, where and why it was recorded." It reminded him that there are some really good musicians out there who still believe in the power of music to make people feel good and forgot about their troubles just for a little while. A break from reality.
I also had the opportunity to talk to one of his earlier mentors Greg Howe one night and asked him about Scott. I found out that the two met back in the 90's in which Scott was interviewing Greg. Here was the beginning of their musical friendship that has lasted over the years. It was nice to hear that some one as notable and accomplished as Greg Howe praising Scott's talent. He said that it was inspiring to see Scott grow over the years and to watch him develop from a beginning guitar player. Starting from the informal lessons Greg gave Scott to watching him turn into the mature performer he is today. When talking about Scott, he said that he projects a genuine sense of conviction in the music and when he performs he projects a true emotional attachment to what he is singing. Scott can take someone else's song and make it come out sounding better than the original. We also both agreed that Scott needed to take more time in writing his own music. You can find more out about Greg Howe at The official Greg Howe website.
His goals for 2009 are to just continue to be what I am now, a Full-time working musician. I want to be able to be booked at least four nights a week, every week from now until I'm too old to keep it up. I want to travel more. I love playing in all four corners of PA, as well as NJ, NY, MD, and anywhere else that I can work. I'd be lying if I said that I never wanted to be famous. I did want that, back in 1989-1990 when I first got really serious about playing and performing. There are so many people world-wide that do what I do. Musicians, even the really, really good ones, truly are a dime a dozen bunch. It's mind boggling when you realize that even with the hundreds of musicians that have achieved some sort of fame, that there are literally thousands that are just as good (if not better), that have no fame at all.
Scott has been performing professionally since early 1993. During that time, he's been involved in several bands. I was in a Beatles/60's music tribute band (Circle Sky), a rock-a-billy band (The Rumble Cats), a country band (a very early incarnation of The Kelly Murphy Band), he said that the two most satisfying projects he's ever done was his three year stint as bassist (and co-founding member) of The Aardvarks (with former members of The Armadillos, The Seamrippers, and Wake Up Naked) and as one of the guitarists/singers with the band Redz Vision. In fact, a lot of what I do now in my solo shows (with the MIDI Sequences) is what I learned while playing in Redz Vision. As much as I love (and miss) the interaction with other musicians on stage, I find that as I get older, I like the fact that I can get that "full-band" sound by myself. Also, with the economy the way it is, it's a pretty nice thing to not have to split the pay with two, three, or four other guys at the end of the night (laughs). Do I ever think about being in a band again? Yes, all the time. But the thing is, (both John Lennon and Paul McCartney said this at different times) being in a band is like being married to however many other people are in the band all at once. In any relationship, you need to find the right partner(s), the right chemistry, and any number of other factors. I'll admit that I can be difficult to be in any kind of relationship (as I'm sure any of my ex-girlfriends over the years will confirm). Also, my parting of the ways with The Aardvarks (we're all good friends again) back in 2004 still has me a little gun-shy about that kind of commitment again. Right now, I have the best of both worlds. I'm a solo performer that has a full-band sound (when needed), plus in being involved with the U.B.A.C.E. kids I get my band "fix" again.
Along with his solo career, Scott has The Quarry Road Project in the works with several other seasoned veterans. They will be covering classic rock from the 60's and 70's and many of the great dance songs that you loved from the 80's that you don't often hear played out in the clubs. Places that you can find Scott Erickson performing, bi-monthly at the Cherry Alley Café in Lewisburg. Senuna's Bar & Grill in Wilkes-Barre and The Broadway Pub in Bangor, PA. He is currently host's the open mic at the Pub II in Danville, Pa on a bi-weekly basis.
~