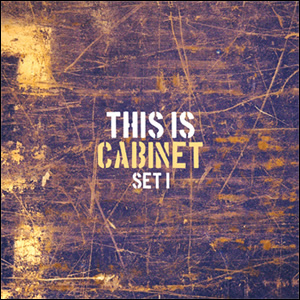 A blue grass jam band from Wilkes-Barre with some virtuoso playing, Cabinet has put something together that is truly original with the live This Is Cabinet, Set 1. Recorded at the River Steet Jazz Cafe in Wilkes-Barre as well as venues in Erie and Cleveland, the album was produced by Bill Orner and Eric Ritter, along with the group themselves.
The sound is amazingly tight for the pace, amount of improvisation, and number of musicians in the group. There are six members of the band including J.P. Biondo on mandolin and vocals, Mickey Coviello on acoustic guitar and vocals, Pappy Biondo on banjo and vocals, Todd Kopec on fiddle and vocals, Dylan Skursky on bass and Jami Novak on drums. The recording is pristine for a live situation, with each instrument and voice well-repesented in the mix. It follows the band's self-titled 2009 debut studio recording and, perhaps, proofs that Cabinet is much more effective as a live band.
The album starts with a medley "Tower/Salt Creek", which establishes the undeniable blue grass backdrop while also giving hints that there is something a little more here. In the instrumental "Treesap", the band interjects a strategic dose of reggae rhythms while the intense, long jam "Coalminers" has some theatrics and talks of "digging and digging all day", in an almost nineties grunge-style manner. The nearly nine minute instrumental "Shifty Shaft" closes the album, leaving the listener hungry for more, as a member announces "We'll be Right Back" at the close of the song. Back soon with This Is Cabinet – Set 2? In fact, Coviello has stated that he hopes this is, in fact, the first of a series of albums.
This may be by design, as the group intentionally books sparsely in their home Scranton/Wilkes-Barre region to assure that all their shows are a true "event". The group is, in many ways, reminiscent of seventies virtuosos Little Feat and The Charlie Daniels Band. But their is also something really original and edgy about Cabinet and I feel we'll be hearing much more from them.
~