NOTE: This article was originally published on the DAMES of Pa website.
There is something quite admirable about musicians who produce albums entirely by themselves. It takes a plethora of skills to play several instruments adequately, provide all the vocals, and do all the mundane engineering tasks independently, not to mention the songwriting process itself. Chris Nelson has produced such an album with The Invisible Man. The album is Nelson's second as a solo artist following his 2009 debut, Nightfall. The artist from Lebanon, PA released The Invisible Man today (8/16/11) in strictly digital form at his Bandcamp Site, with some physical CDs for sale at live shows.
When we talked to Chris about a month ago at the Harrisburg Jazz and Multicultural Festival (see our related article The Invisible Musicfest), he claimed there would be some surprises with this new album. And he was right. In contrast to Nightfall, which Nelson self-described as "dark folk", The Invisible Man is much more diverse, exploring many genres throughout. In addition to the base folk rock sound, there are elements of punk, new wave, synth pop, alt country, and pyschedelia.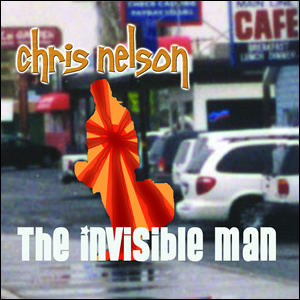 Many songs bear strong resemblance to mainstream acts all across the spectrum. "Go It Alone" bears a strong resemblance to material by The Kinks, the instrumental "Elephants" is reminiscent of Pink Floyd, the driving folk "You In the Sky" feels like a Gordon Lightfoot ode, while the intro and verse of the title song bear a strong resemblance to Nancy Sinatra's "These Boots Are Made for Walkin'", although this song later morphs nicely into an upbeat, alt country tune.
The album contains one excellent song, "In Praise of Failure". This song has a calm, moody 80s-style backdrop upon which Nelson shouts desperate vocals in fantastic contrast, building towards the signature line – "…the greatest way to leave your mark is to jump off of a building…" The song also contains some of the best guitar work on the album in the form of a slow, methodical, bluesy lead.
A few other songs are nearly as good, falling just a tier below. These include the choppy and melodic "Multiple Choice", the new-wavish "Lonely Without You", and nineties style rocker "Monster In Me". With these, perhaps, a little musical and production collaboration may have pushed them over the top. Nonetheless, there is still something quite admirable about musicians that produce albums entirely by themselves.