NOTE: This article was originally published on the DAMES of Pa website.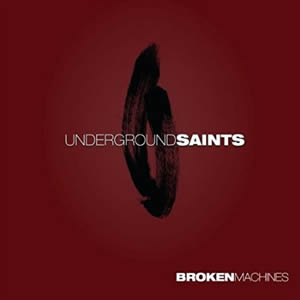 With roots that date back to the early nineties, Underground Saints are in no way newcomers to the music scene. That being said, the band has just recently released their debut album Broken Machines and to much critical acclaim. In the same vein as Coldplay and The Killers, Underground Saints strike a nice balance between music and lyric in a calm and deliberative fashion that sounds fresh and original compared to much contemporary music.
Guitarist Pat Flynn and bassist Mark Kiesinger started their first band, Mere Mortals, while still in high school in the early 1990s. The band went on to achieve great success in Northeastern Pennsylvania, releasing a couple of albums and opening for then-national act The Badlees at the prestigious Kirby Center for the Performing Arts in Wilkes-Barre in 1997.
By 1999, with Mere Mortals on the wane. Flynn and Kiesinger joined up with New York vocalist and mult-instrumentalist John Smith to form the band Bent Blue. This band also had some success, with a few songs on regular rotation on the radio and opening up for such national acts as Third Eye Blind and Matchbox Twenty. But Bent Blue also ran its course over time and by 2007 Underground Saints was formed with the inclusion of drummer A.J. Jump. After three years of forging their sound as a live act, the band finally released their debut album in 2010.
Flynn has stated that they were motivated to make the best album of all of their careers with Broken Machines. The album was mainly produced by the prolific Bret Alexander, with Aaron Fink and Justin King each producing select tracks, all of whom have major-label experience.
Some of the album's highlights include the a doomy, acoustic ballad "Each Blue Tomorrow", the U2-inspired "Dumbing Down the World" with accented riffs and funky bass, and the radio-friendly "My Finest Hour", which is more upbeat than most of the rest and has some nice falsetto vocal parts. The band plans to market the album in creative and cutting-edge ways in order to get Broken Machines heard by as many music lovers as possible.
~