NOTE: This article was originally published on the DAMES of Pa website.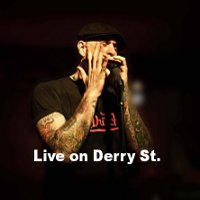 Influenced by Delta blues man Rice Miller, Nate Myers started playing blues harp in the early nineties. Since then he has played blues, country, funk, and everything in between, always aiming to give the best performance possible.
In 2002, Myers formed The Aces in Harrisburg, PA. The band currently includes guitarist Chris Purcell, Pete Netznik on bass, Mike Noll on drums, and Myers as front man and harp player. He borrowed the name "Aces" from a band that Louis Myers had formed in the 1950s and with this band Myers started to work on original material for the first time in his career. That same year the band recorded their debut album Rise Above It.
Since then Nate Myers & the Aces has released three more studio albums along with two live albums. The most recent of these is the 2010 release Live On Derry Street, recorded over several shows at Malone's on Derry Street in Harrisburg. Produced by Jason Schaffer, the album catches the precise and deliberate tones of the band in an unfiltered and honest setting. Some of the album's highlights include the funk-influenced "Pusherman" and the beautifully moody "Same Old Song & Dance", which DAMES of PA recently named as #1 on the list of Top Songs of 2010.
The band recently wrapped up a long stint as host of Wednesday Open Mic Might at Appalachian Brewing Company and are looking forward to a healthy schedule of live performances as the summer season approaches.
~