This latest version of Maggie's  Corner is spawned from a Spring 2019 show by the Gabe Stillman Band at Spy Glass Ridge Winery in Sunbury, PA.
Hi everyone! I am back with a new venture out to a local winery in Central Pennsylvania.
I wanted to try something different so we headed out to see a young blues artist for my birthday. So on March 30th we traveled to Sunbury to the Spy Glass Ridge Winery, known for its awesome wines and family oriented atmosphere, This establishment was settled on a family farm and passed down through the generations. It just so happened that on the day we went it was the owner's birthday as well. The people there were so friendly,  I love picking up a few new friends along the way.
Our entertainment for the day was the amazing Gabe Stillman Band, featuring ace guitarist and singer Gabe Stillman. He has lots of energy and gets the people up on the dance floor. We had the opportunity to speak with this Williamsport native and Berklee College of Music graduate and asked him about his journey on the blues tour.
The group includes Collin Beaty on the bass, Jesse Roats on the drums, and Shane "the Hurricane" Sager, who plays the harmonica. They have performed in the Billtown Blues Festival, the Briggs Farm Blues Festival, and most recently traveled to Memphis to compete in the 2019 International Blues Challenge and with great success. Out of 101 acts, the Gabe Stillman Band finished the Top 8 and Gabe was named the winner of the prestigious Gibson Guitar Award, which he states has opened up a lot of doors for him and he considers this to be a great blessing.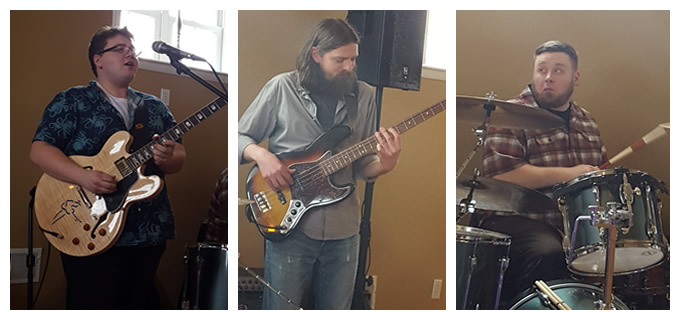 The group bought a nice van so that they could start touring on the road as they will be going to Texas this July. Gabe explains that blues music is very joyful and it is about the feeling.
These guys are what blues is all about, starting at a young age realizing that the blues is all about the feeling. Gabe started trying to play heavy metal ex. "Metallica" that's when he found a technique just by learning 3 chords he could make blues music and that's how he began, "he was hooked".
At the end of my day I had made five new friends, danced with a few people, and came to realize that its not about who you don't know before meeting at the blues, its about how the music can bring strangers together in the same atmosphere, and leave as friends because of a common love for the blues.
~
Gabe Stillman Band online