Earlier this year, the music world lost a music legend when Billy Paul passed away at age 81. A native of Philadelphia, Paul had an especially rich voice which fit perfectly with the Philly Soul movement of the 1970s and was even dubbed with the title "A Singer's Singer".
Born Paul Williams, from his earliest days he was surrounded by jazz music and soon grew a great appreciation for female vocalists such as Billy Holiday, Ella Fitzgerald and Nina Simone. His first public performance was at age eleven when he appeared on local Philly radio station and he soon attended the Granoff School of Music for formal vocal training. At age 16, he was on the same bill as the legendary Charlie Parker at the Club Harlem and through his college years he played concerts with the likes of Miles Davis, Sammy Davis Jr and Roberta Flack. He made his first professional recordings as Billy Paul in the early 1950s and released several singles through the decade, but each of these failed to chart.
In 1957, Paul was drafted into the army and was stationed in West Germany with Elvis Presley and several other musicians, which kept his passion for music alive. Paul formed a jazz trio after his discharge from the service but found renewed interest in popular music when he heard the Beatles in the early 1960s. Feelin' Good at the Cadillac Club was his debut LP, released in 1968, while his 1970 follow-up, Ebony Woman was a more commercial success, reaching #12 on the Billboard soul charts. He next signed with Philadelphia International Records and made full use of the label's studio musicians MFSB at Sigma Sound Studios for the 1971 album Going East.
Billy Paul finally hit international fame with the track "Me and Mrs. Jones" from the 1972 album 360 Degrees of Billy Paul. The album hit #1 on the Soul charts and #17 on the pop charts, while the song was a #1 hit for several weeks, selling over two million copies as the commercial apex of Paul's career. A later single from that same album called "Am I Black Enough for You?" would spark the first of several controversies over the content of Paul's songs. In 1975, Reverend Jesse Jackson led a movement against the song "Let's Make a Baby" because of it's sexual connotations. In 1976, Paul released a cover of Paul McCartney and Wings' song "Let 'Em In" with altered lyrics which explicitly cite Elijah Muhammad, Malcolm X, Martin Luther King, Jr, and Medgar Evers among others.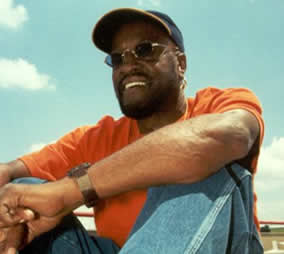 After the 1977 album, Only the Strong Survive became Paul's final charting album, his commercial success decline through the following decade, as he had sparse album releases through the eighties. In 1989, Paul announced his retirement from music but this proved to be a short-lived state, as continued to play regularly play live and make additional recordings into the new century. During the 2000 Olympics his signature song "Me and Mrs. Jones" was used in a Nike commercial without permission, which sparked a series of lawsuits that resulted in Paul recovering lost royalties for himself as well as several other recording artists from the early 1970s.
In an interview in 2009, Paul summed up his career this way;
I've always worked hard to create my own style. Nobody sounds like me. I've heard them call me 'legendary'. That feels pretty good…"
~
Billy Paul online


Billy Paul website
Buy Billy Paul music