60 years ago today, on November 26, 1956, trumpeter Tommy Dorsey unexpectedly lost his life at the fairly young age of 51, permanently ending the on-again/off-again collaboration with his brother, clarinet and saxophone player Jimmy Dorsey. This career spanned 30 years from the mainstream emergence of jazz in the mid 1920s to the advent of rock and roll in the mid 1950s. In fact, Elvis Presley had made his national television debut on their network TV series earlier in 1956.
Natives of Shenandoah, Pennsylvania, Jimmy (born 1904) and Tommy (born 1905) began performing as teenagers in several PA-based orchestras, most prominently The Scranton Sirens. They migrated to New York City in the mid 1920s to join The California Ramblers and started recording under the Dorsey Brothers name in 1928. For the next half dozen years, they were strictly a studio group but worked with some of the great jazz musicians based in New York, including future band leader Glenn Miller. Their collaborative effort peaked in 1935 when the Dorsey Brothers Orchestra had two number one recordings, including "Lullaby of Broadway" with Bob Crosby on vocals. However, this partnership suddenly ended later in 1935 when Tommy abruptly departed after an onstage argument.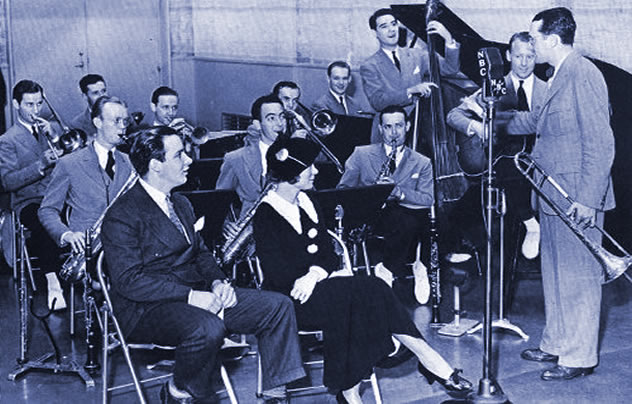 Over the next decade, each Dorsey brother fronted their own orchestra and each had phenomenal success. Jimmy morphed the Dorsey Brothers band into the Jim Dorsey Orchestra and had ten number one hits independently, several of which featured vocalist Helen O'Connell. Tommy Dorsey would have even greater success with seventeen number one hits, including ballads by Jack Leonard and Frank Sinatra. The brothers had a short reunion in 1945 when their combined orchestras recorded a performance at Liederkranz Hall in New York City. In 1947, the brothers filmed the biopic The Fabulous Dorseys and the brothers finally had a full reunion when they launched their own television series in the early 1950s.
After Tommy's death from a choking incident, Jimmy took over leadership of their latest orchestra, but lose his own battle with throat cancer just a few months later in 1957. From humble beginnings in Anthracite country, the Dorsey Brothers' legacy and influence is immeasurable. Jimmy Dorsey is considered one of the most important and influential alto saxophone players of the Big Band and Swing era, while Tommy had a rare knack for talent and songcraft. Both brothers were posthumously inducted into the Grammy Hall of Fame after a special Grammy was established to honor recordings of qualitative or historical significance.