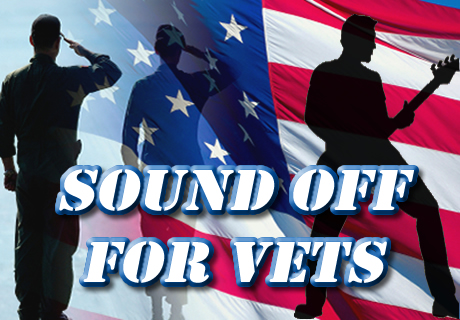 May 21, 2011 was a spectacular spring day on City Island, Harrisburg, a long welcomed break from the rain of several previous days. The second annual Sound Off for Vets benefit concert, which benefits The Wounded Warriors Project, was held in conjunction with Armed Forces Day. The concert was organized by Chris Nelson, and sponsored by 33 Dimensions Web Design as well as several other local businesses and contributors.
The event kicked off at Noon with singer/songwriter Chris Nelson performing a nice mix of original songs plus some covers. Next was Carmen Magro and his five-piece band, who performed several inspiring numbers including the hit "America".
Michael Anthony Smith and the Dirty Thieving Gypsies played a mix of original blues and early eighties-tinged rock along with a cover of the Beatles "Helter Skelter". The impressive trio Shift Seven, performed next with a well-crafted sound that could be a hybrid of ZZ-Top, Lynard Skynard, and Aerosmith.
Next came a couple more acoustic acts. Mycenea Worley performed some interesting arrangements of cover songs such as "In Your Eyes" by Peter Gabriel and "Me and Bobby McGee" by Janis Joplin as well as her excellent originals. Brian Xander then performed a unique acoustic set that included a country-rock version of "You Shook Me All Night Long" by AC/DC and some fine originals, such as his ode to American servicemen "Standing Tall", which was a definite highlight. The final act was the Driving Vegas, with original songs that have a soulful, early seventies sound as well as some covers such as "Walking in Memphis".
In between sets, many of the donated items and gift baskets were raffled off to attendees who contributed to the cause by purchasing raffle tickets. All in all, Sound Off for Vets 2011 was a success. The music was quality and entertaining, the weather was spectacular, the setting was unique, and the cause fantastic.
~