Article originally published by DAMES of PA on July 30, 2011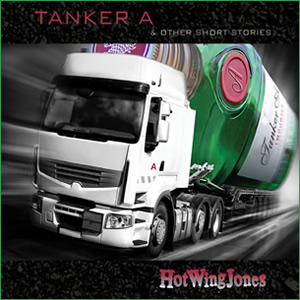 Hot Wing Jones has been described as a garage band for adults. While this may accurately describe this band's public persona, it doesn't aptly describe this band's dedication to their musical pursuits. If one listens to their latest album Tanker A & Other Short Stories or attends one of their live performances, one is left with little doubt that this is a serious group of serious musicians. However, to witness some of their live antics or try to get a serious answer from one of them when asking a serious question, is not always easy.
This summer rhythm guitarist Talbert Ford, was unable to attend some shows. At two separate shows, lead singer and bassist Andy Shemeta described his absence in different ways. During a performance at Ski Roundtop, he claimed that Talbert contracted malaria while on vacation in the Amazon. A week later at the Midtown Arts Center, on the very day that British singer Amy Winehouse died, Shemeta claimed that Talbert had "partied a little hard" in England the previous night. While comments like these may range from being genuinely witty to downright awkward, when it comes to the music itself the members of Hot Wings Jones are complete professionals.
The members of the band each have a talent for making it look effortless during their live shows and are not afraid to take chances, flirting with different styles and directions. Live shows often incorporate other musicians with various backgrounds. Last year they did a show with Ron Simasek of the Badlees sitting in on drums and they didn't seem to miss a beat (no pun intended). Fellow Badlee and producer of the album, Bret Alexander helped them launch Tanker A at their release show in May along with Mycenea Worley, Tim Farley, and guest keyboardist Trent Peechatka, all joining the band at different points of the show. For the deck show at Ski Roundtop, the band scaled it back with lead guitarist Anthony Pepoli playing acoustic throughout and drummer Rocco Beckenhelm playing with brushes. They also changed up their set quite a bit, playing more covers than they typically do, but still pulled off an entertaining and energetic performance.
The newest permanent member of the band, Corey Woodcock, joined Hot Wing Jones in 2007 and has added a whole new dimension with the pedal steel guitar, which has presence throughout Tanker A. Woodcock also plays rhythm guitar and performs lead vocals for a couple of songs he wrote. This new element tilts the band's sound on Tanker A towards a more "alt country" feel, especially in comparison to their debut 2006 EP, which had a more bluesy-rock feel.
Following the odd but entertaining opening title song, "What the Hell" kicks into this new feel as an upbeat country song fueled by banjo and steel guitar by Woodcock and guitar and Hammond B3 by Bret Alexander. Shemeta's vocals are low-key and fit well with the overall vibe. "Reannin" follows with Woodcock on lead vocals, backed up by Mycenea Worley. Alexander takes on lead vocals for "Unbroken", which has the feel of a country ballad along with his signature mandolin. "Dream Day" may be the best song on the album. It starts with a groove reminiscent of early Chicago in intro, contains a nice mix of mellotron and organ, especially good bass by Shemeta, interesting drum interludes by Beckenhelm, and interesting changes throughout.
The pedal steel may a be a bit much on "Just Your Friend", as it draws away from the rest of the instrumentation, making a good, solid rock song just a tad too country. This is not the case on "25 to Life", another upbeat, shit-kickin' song sung by Corey Woodcock. The album then gets a bit more diverse with "Castaway", which contains lead guitars in style of Jerry Garcia, on top of an overall, Jimmy Buffet-esque vibe complete with an interesting Farfisa organ sound. "Sittin' In a Chair" adds a psychedelic twist, with an excellent guitar tone during the solo by Pepoli, some added percussion by Ron Simasek, and some doomy background vocals. Tanker A also contains two instrumentals, the calm, guitar-driven "Raga for Buddy" and an untitled track at the end containing sitars and hand percussion.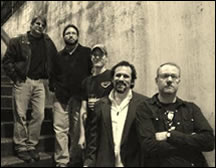 Rounding out the album are a group of songs that harken back towards the "classic" Hot Wing Jones sound. "Take It Away" is riff-driven and contains a nice bluesy lead guitar. "The Big Sea" is an interesting and clever song with a dark feel through most of the song that gives way to a lighter feel later. "Ugly Worm" is hard rock in the vein of Blue Oyster Cult or even AC/DC, with bright screaming guitars. A few more guest musicians add their talents to the final two songs. Paul Young plays guitar on the surf-music inspired "Skinnydippin'", while his former Pan.a.ce.a band mate Tim Farley provides background vocals on "Smile" along with Nyke Van Wyke on violin. Alternating between calm Americana and heavier rock, "Smile" goes into a stronger, country jam near the end, led by Van Wyke's fiddling.
In all the album, which took over 3 1/2 years to complete, is a rich and entertaining listen, especially for those who enjoy music that traverses the genre map. Hot Wing Jones, which began as a blues band, has come a long way from those roots. Along with their unique approach, the band also has an unusual pedigree, containing a couple of attorneys among their ranks. Although their unconventional nature can be sometimes frustrating, there is no doubt that it also adds to their edge and originality.
~