NOTE: This article was originally published on the DAMES of Pa website.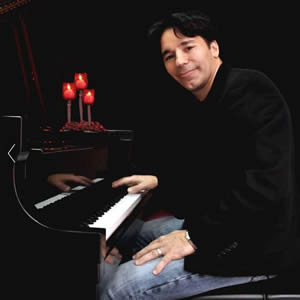 Carmen Magro plays inspirational music. Much of this music translates from his inspirational story. He has an enthusiasm for life and a remarkable ability to turn life's tragedies into something positive. This is what you'll find when you listen to his debut EP Come Alive. It contains five songs filled with Carmen's contagious, positive energy telling stories of the past and lessons learned while looking forward to the future.
The opening, title track "Come Alive" showcases Magro's emotive vocal ability as it sets the theme for this collection. The song begins abruptly with a strong guitar riff but then settles into a sweet piano ballad encouraging the listener to hope, dream and look towards the future.
I've been thinking of things I have not seen And they"re so beautiful…"
"Take Me Back" is an upbeat rocker that reminisces the joys of youth and being surrounded by the familiar friends and places of your childhood. It is specifically about Carmen's memories of growing up in the Manyunk section of Philadelphia. Essentially, no one can take away your memories and we can take comfort in that.
The album ends with a pair of uplifting straight-up pop songs, the simple love song "Looking at Me", and "Our World" another opportunity for Magro to inspire people to make good choices and do good things for each other; "It's our world take the time to put up a fight for the things that you know will set us right." A better life and a better world through choosing to do the right thing.
But by far, "America" is the most moving song on this CD, as well as the most obviously personal. Carmen was gracious enough to donate this song to be used as the theme song for our recent Wounded Warrior Benefit. On stage that night Carmen told the story of finding out why his father enlisted in the military at the start of World War II and with this back story, he paints vivid lyrical portraits of the American life for which his father felt was worth fighting.
Carmen is backed up, on stage and on recording, by an excellent and professional group of musicians including Mark Burkert, Rob DiSimone, Chuck Scarpello, Dave Murphy, and Steve Sauer. The only flaw in this CD may be that the production is slick and a bit over polished not truly doing justice to the fantastic sound this group of musicians achieves during live performances.
Upon listening to this collection of songs, it is apparent that Carmen Magro has been shaped by life experiences – some tragic, some jubilant, some commonplace – into an interesting person with a compelling story. He writes songs that are as contagious as his life loving attitude. His friendly demeanor and ever present smile captivate an audience before he even sings a note.
~