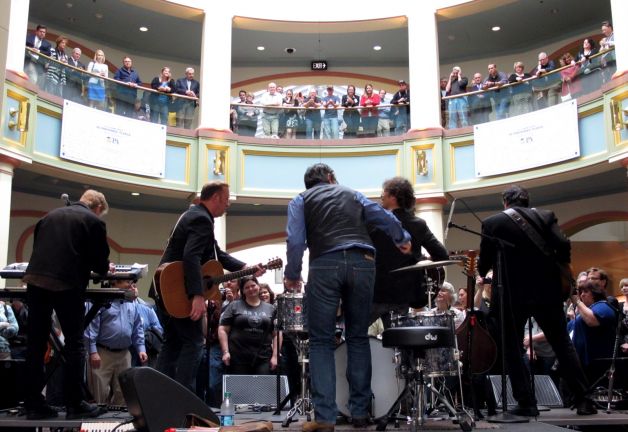 A couple of weeks ago, the Pennsylvania State Senate voted on a resolution to declare April 30th "Hooters Music Appreciation Day" in the state. The resolution, sponsored by Senator Daylin Leach, passed unanimously and The Hooters have cemented their place in the PA history books. The band accepted the award today and celebrated the occasion by treating some fans to a lunchtime concert in the Capitol Rotunda in Harrisburg.
Senator Leach introduced the band and presented the framed resolution and explained that despite the many other important matters the senate has to discuss and vote upon, it is important to recognize the arts as well. The senator praised the band's contributions to the state of Pennsylvania. April 30th marks the band's "33 1/3rd anniversary" together, with "33 1/3" also being the title of their upcoming European tour this summer.
The band was set up on the lower level of the rotunda so the crowd was gathered on both levels, when the band stage, the audience greeted them with warm applause. They kicked off with the energetic and uplifting "I'm Alive" from their 2007 album, Time Stand Still. A group of school children were dancing and enjoying the show right alongside the folks in business attire and the fans in Hooters t-shirts. It was almost a bit surreal seeing a rock band getting a crowd going like that in the middle of a work day.
The fun continued with a parade of hits from the late 1980s including "Day by Day", "All You Zombies", "Satellite", "Karla With a K", "And We Danced", and "Beat Up Guitar". This is music with heart and soul and it was inspiring to see such a diverse group enjoying the show.
The Hooters may have made their biggest national splash in the 1980's, but they are still going strong 33 1/3 years later.
~
The Hooters online
The Hooters website
Buy Hooters music